Stockpile of 2,000-year-old gemstones found in Roman bathhouse drain
What caused a clog in this 2,000-year-old Roman bathhouse? A treasure trove of gemstones, that's what.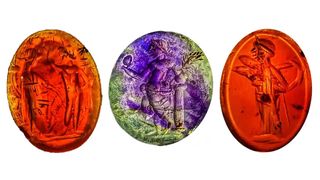 (Image credit: Anna Giecco)
Archaeologists recently uncovered a stockpile of 2,000-year-old glittering gemstones clogging the drain of a Roman bathhouse near Hadrian's Wall in Carlisle, England.
The 30 engraved, semi-precious stones — known as intaglios — likely dropped out of the ring settings worn by bathers who took to the waters sometime during the second and third centuries A.D., The Guardian reported.
"It's incredible," Frank Giecco, the archaeologist who led the excavation, told The Guardian. "It's caught everyone's imagination. They were just falling out of people's rings who were using the baths. They were set with a vegetable glue and, in the hot and sweaty bathhouse, they fell out of the ring settings."
Giecco described the intaglios as "minuscule": The smallest measured about 0.2 inch in diameter (5 millimeters) while the largest topped out at about 0.6 inch (16 mm).
"The craftsmanship to engrave such tiny things is incredible," Giecco said.
During the excavation, archaeologists discovered an amethyst depicting the Roman goddess Venus holding either a flower or a mirror, as well as a piece of jasper engraved with a satyr lounging languidly on a bed of rocks, according to The Guardian.
Related: Greek bathhouse found in ancient Egyptian town by Red Sea
"You don't find such gems [at] low-status Roman sites," Giecco said. "So, they're not something that would have been worn by the poor."
Giecco thinks the bathers most likely had no clue that they lost their precious adornments until after they dried off and headed home, and even then, he wouldn't be surprised if they thought the disappearance was the result of petty theft rather than accidental loss.
Bathhouse theft was so rampant that Roman baths elsewhere in England displayed "curse tablets" that "wished revenge on the perpetrators of such crimes," according to The Guardian. One such tablet read, "So long as someone, whether slave or free, keeps silent or knows anything about it, he may be accursed in blood, and eyes and every limb and even have all intestines quite eaten away if he has stolen the ring."
In addition to the intaglios, archaeologists uncovered 40 women's hairpins and 35 glass beads during the excavation.
Stay up to date on the latest science news by signing up for our Essentials newsletter.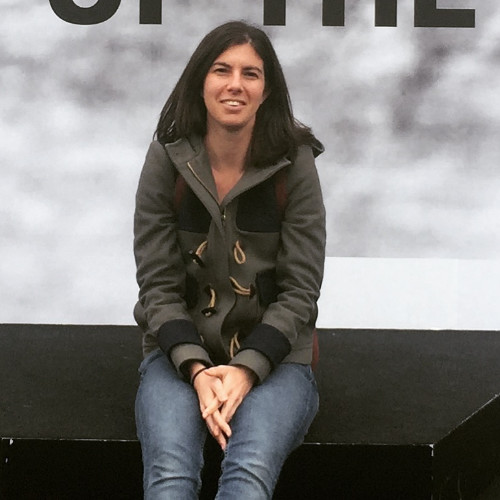 Live Science Staff Writer
Jennifer Nalewicki is a Salt Lake City-based journalist whose work has been featured in The New York Times, Smithsonian Magazine, Scientific American, Popular Mechanics and more. She covers several science topics from planet Earth to paleontology and archaeology to health and culture. Prior to freelancing, Jennifer held an Editor role at Time Inc. Jennifer has a bachelor's degree in Journalism from The University of Texas at Austin.