Essential info:
Price: From $199.99/£169.99
Model number: 42110
Number of pieces: 2,573
Dimensions: 8 x 16 x 7 inches / 22 x 42 x 20 cm
Recommended age: 11+
Lego Technic sets excel at recreating scaled-down versions of real-life vehicles. However, the way Technic works means that, sometimes, details are missed out or washed over simply because the nature of the pieces don't allow for it. The Lego Technic Land Rover Defender, however, feels different. This is one of the more precise Technic models out there. Even if you're not massively familiar with the Defender, this finished model is instantly recognizable. There's even a full interior with sculpted seats to enjoy, but more on that later.
As you'd probably expect from a Technic model, this isn't an easy build. Don't be fooled by the Age 11+ on the box: even the smallest Lego Technic build requires patience and skill. Being so large, this is one of the trickiest out there, hindered by the fact that the instruction booklet isn't always great at making it clear where certain pieces should go. But if you can cope with the odd frustration during the building process, you're going to be left with one hell of a model, complete with working steering and plenty of movable parts. Land Rover Defender fan or not, this is certainly a stand-out Lego Technic set and easily one of the best Lego sets out there.
We should add that as of December 2022, the Lego Technic Land Rover Defender set has retired. This means that you probably won't be able to find it on the official Lego website anymore, but that doesn't mean you still can't purchase it at other stores or online retailers such as Amazon (opens in new tab)/Amazon UK (opens in new tab) . It's such a stunning build that it's worth tracking down.
Lego Technic Land Rover Defender review: Build
A very time-consuming build
Made trickier by poor instructions at times
Starting to build the Lego Technic Land Rover Defender can be a daunting task. You're faced with a 496-page instruction book and 21 bags of pieces. Phew. That's a lot. Making matters worse, the bags are split up into four number groups, which means at any one time you're going to have a lot of pieces to sort through. Once you brush off the feeling of being overwhelmed, and there's a lot to enjoy about putting this behemoth of a vehicle together.
There are three bags numbered '1,' making the start of the build perhaps the least time-consuming. It's also probably the least enjoyable part, because at no point in these first couple of hours is it ever clear what you're actually building. You start by putting together a set of axels complete with working suspension, but to the untrained eye it's simply a mass of interconnecting bits. There's a nice use of parts, yet with so many tiny pieces it can be quite fiddly.
From here, you'll move on to begin constructing a separate hive of gears – another complex jumble of interconnected pieces. This is always the trickiest part of any Technic build because what will eventually become the inner structure of your vehicle is where all of the mechanisms lie. So, if you want your steering and gear system to work as it should when you've finished, it's imperative to get everything absolutely correct early on.
Of course, this is easier said than done as the instructions can often feel like they're working against you. Just be sure to pay close attention, double-check everything you're building (and again for good measure), and you should be fine.
Building axles and inner mechanics continues into the second set of bags (there are seven of them this time), again requiring the utmost patience and precision. You'll be building a separate construction here, but eventually your two structures will need to become one. Attaching them together is probably the most awkward part of the whole build as it requires lining up many parts all at once. Once they're together, though, the Lego Technic Land Rover Defender finally starts to take some shape.
Before you start adding the Defender's body work, there are some important internal details to add. The working gearbox is particularly impressive, as are the beige-colored seats. They may only be made out of plastic bricks, but they're a fantastic replica of real car upholstery, complete with shaped headrests. Some smaller details add nice touches too, like a tow hook and an engine model tucked away under the hood.
From the third set of bags onwards – a comfortable mid-point of the Lego Technic Land Rover Defender build – you'll start piecing together the car's bodywork. Things get a little more enjoyable here, in part because it's nice to be able to recognize what you're building,
You're not completely done with complicated mechanisms, though, as there's still some of that to be done thanks to some nifty functional doors. The trunk actually locks, thanks to a clever mechanism controlled by a mounted spare wheel, and the driver and passenger doors have complex hinges in place for smooth opening and closing.
Lego Technic Land Rover Defender review: Design
Excellent detail that's close to the real thing
Though it's a shame that stickers are relied upon for smaller touches
It's impossible to truly criticize the design of the Lego Technic Land Rover Defender. This is an expertly-designed model, clearly worked on by people who know the real-world vehicle inside out. From the shape of its bodywork to the features on the dash, it captures the spirit of the Defender down to the very last detail.
Although perhaps some of those details are maybe a little unnecessary. There are over 30 stickers in the set (yes, really) and many of them are tiny. Some are used to add logos and branding to the inside of the vehicle – something that's perhaps not needed, particularly as placing tiny stickers is incredibly fiddly work. We'd have preferred printed pieces, but that's a sore point we have with almost all pricey Lego sets.
As a whole, when you've finished building the Lego Land Rover Defender it's a fine model to gaze at and play with. The working steering and moving parts make for an excellent model to move around (it feels too expensive to truly 'play' with, but perhaps that's just our opinion). Even just for it to sit on a shelf and be admired, it does a stand-out job. The choice of color for the body is perfect, its chunky wheels look excellent, and the detail on the roof rack (including a couple of storage boxes) really finish it off.
Should you buy Lego Technic Land Rover Defender?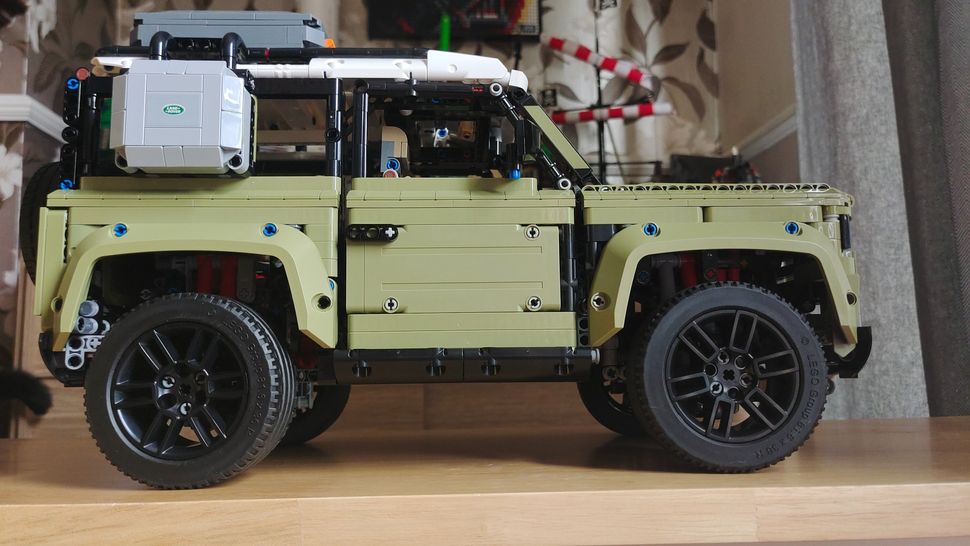 If you're already a fan of Lego Technic, you should absolutely consider adding the Land Rover Defender to your collection. If you're used to building Lego System sets, Technic can be a very different beast, and so a set as large as the Land Rover Defender perhaps isn't the best place to start. It's a very tricky build, and if you're not already familiar with the process it can be frustrating at times. However, if you're up for a challenge, then jump right in. If you own (or simply admire) a Land Rover Defender in real life, this set feels like a no-brainer.
Other Lego sets to consider
If you're looking to make a leap to Lego Technic, we suggest starting with something a little smaller. The McLaren Senna GTR (opens in new tab) is a fantastic-looking model, and with 830 pieces it offers incredible value at $50/£45. In the same range is also a Ford Mustang Shelby GT500 (opens in new tab) ($50/£45) and a Formula 5 Porsche 99X Electric (opens in new tab) ($50/£45).
If you're already a master of Lego Technic and want a big, impressive-looking set without breaking the bank too much, there's the $200/£170 Ferrari 488 GTE "AF Corse #51" (opens in new tab) and the $200/£170 McLaren Formula 1 Race Car (opens in new tab). The Lego Technic All-Terrain Vehicle ($89.99/£79.99) is also a fun option.
If money's no object, then you won't be disappointed with the massive, 3,696-piece Lamborghini Sián FKP 37 (opens in new tab) with its eye-watering price tag of $450/£390.
Alternatively, if you'd like a realistic-looking vehicle but don't want to dive into Technic, the Lego Icons (opens in new tab) range has some models well worth checking out, like the Chevrolet Camaro Z28 (opens in new tab) priced at $170/£150.