Non-sugar sweeteners don't help with weight loss and may come with health risks, WHO says
Non-sugar sweeteners won't make you lose weight and may be linked to health risks in the long-term, the World Health Organization reported.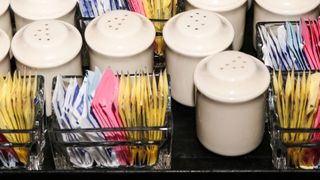 (Image credit: Image by Marie LaFauci via Getty Images)
Non-sugar sweeteners (NSS) shouldn't be used to reduce body weight, according to newly released guidance from the World Health Organization (WHO). The United Nations (UN) health agency's report also suggested that long-term use of such sweeteners may come with health risks.
Announced Monday (May 15), the new recommendations are based on a systematic review of evidence, the WHO said. The review includes more than 280 studies of both low- and no-calorie synthetic sweeteners, like aspartame, and natural extracts, like stevia. The findings suggest that using NSS in place of sugar does not have any long-term benefits in reducing body fat in either adults or children.
The review also suggests that long-term use of these sweeteners may be linked to a slightly increased risk of type 2 diabetes, cardiovascular diseases and early death from any cause in adults.
However, the WHO noted that the evidence of links between long-term NSS use and risk of disease or early death isn't strong enough to be conclusive, in part due to the complicated patterns of NSS use and underlying characteristics of the study participants that may have confounded the review's results. Because of this, the WHO labeled its recommendation as "conditional," meaning there's still uncertainty about the benefits of implementing it.
Related: Is Diet Coke bad for you?
"Replacing free sugars with NSS does not help with weight control in the long term," Dr. Francesco Branca, WHO director of nutrition for health and development, said in a statement. "People need to consider other ways to reduce free sugars intake, such as consuming food with naturally occurring sugars, like fruit, or unsweetened food and beverages."
The WHO said that its guidance on sweeteners applies to everyone, except for people with existing diabetes. Moreover, the recommendations don't apply to medications and personal care products like toothpaste that may contain small amounts of sweeteners that are added to make them more palatable.
In its review, the health agency looked into studies that compared body weights of people consuming regular sugars with those consuming sweeteners. The reviewed randomized control trials — gold-standard trials with a placebo group for comparison — suggest that in the short term, replacing your sugar intake with NSS may decrease your weight without affecting your cardiovascular or metabolic health.
However, long-term observational studies suggest that consuming sweeteners over a long period of time is linked to higher likelihood of obesity and higher body mass index (BMI), an indirect estimate of body fat, as well as increased risk of certain diseases and early death.
People who don't consume much sugar in the first place aren't likely to have any weight-loss benefits if they switch to sweeteners, the guidelines noted. They'll "likely only be subjected to the potential undesirable effects of NSS use," the WHO said.
The WHO assessed the overall certainty of the evidence it reviewed as "low." The agency called for further research to determine which mechanisms the NSS are involved with that might have negative effects on human health.
Nonetheless, the health organization said that because plausible mechanisms for these adverse effects have been identified and validated in animals, the potential links between NSS and human disease should be taken seriously. These mechanisms include changes in taste perception, the body's release of metabolic hormones, and the gut microbiome, although again, it's unknown whether the changes seen in lab rats would translate to people.
Stay up to date on the latest science news by signing up for our Essentials newsletter.
Christoph Schwaiger is a freelance journalist. His main areas of focus are science, technology and current affairs. His work has appeared in a number of established outlets in various countries. When he's not busy hosting the discussions himself, Schwaiger is also a regular guest on different news programs and shows. He loves being active and is regularly spotted helping out organizations that champion causes that are close to his heart. Schwaiger holds an MA in journalism.