Murky History of Quirky 'Da Vinci Code' Chapel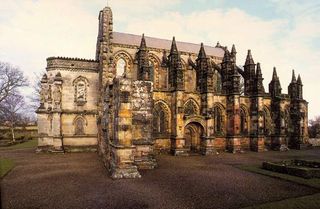 Dan Brown's best selling novel "The Da Vinci Code" has done more to promote tourism at some of Europe's oldest historical hot spots than any slick PR campaign ever could.
From Westminster Abbey to the Louvre, visitors have been lining up in droves to tour locations featured in the controversial work since it was first published in 2003.
With Ron Howard's cinematic adaptation of "The Da Vinci Code" filming near Edinburgh, the destination of choice for fans of the novel is now Rosslyn Chapel, where the story reaches its pivotal climax. The real mysteries may be as interesting as the fictional accounts.
In the book, the tiny chapel near the Scottish capital was a safe haven where the Knight's Templar once hid the Holy Grail. In reality, Rosslyn is no longer a hidden historical wonder. According to Director Stuart Beattie, Rosslyn Chapel expects to welcome more than 100,000 visitors this year, up from 68,000 in 2004 and 9,500 just ten years ago.
While Rosslyn is clearly reaping the financial benefits of Brown's work, for the ₤6 price of admission, "Da Vinci Code" fans eager to explore the setting up close will learn there is more to the chapel's history than what's weaved into the storyline.
Rosslyn Chapel was founded in 1446 by Sir William St. Clair, a Prince of Orkney and one of many in a line of St. Clairs with ties to Scottish Freemasonry and, as Brown suggests, Templar lore. Employing Europe's best masons, he had the 34-by-68-foot structure built with meticulous stone detailing, the chapel eventually becoming a kind of homage to the craft. Nearly every inch of Rosslyn is covered in markers of a fascinating history barely touched on in the book.
The more interesting historical oddities present in the stonework include an archway allegedly depicting rows of North American maize. With construction on the chapel occurring nearly fifty years prior to Columbus' discovery of America, some Rosslyn authorities point to this as evidence that a member of the St. Clair family may have traveled to the New World in the early 1400s.
In Rosslyn's south aisle, visitors will also spot the carving of an angel holding a heart, widely believed to represent that of Robert the Bruce (of "Braveheart" fame). Having fought alongside the future King of Scotland during the 14th Century wars of Scottish independence, St. Clair ancestors were chosen to carry the Bruce's heart to Jerusalem after his death in battle.
While there is more to Rosslyn Chapel than Brown's speculations, for now it seems content on passively riding the wave of its newfound popularity. Without showing outright support for the book's claims and the touchy religious questions posed by Brown, opening its doors to filming (while Westminster Abbey, for example, would not) shows that Rosslyn is willing, at least, to acknowledge public fascination in the subject.
After the excitement of the "The Da Vinci Code" era fades, Beattie hopes Rosslyn "will still be an attractive destination to those who wonder at its purpose and try to define its carvings."
Mock Trail for 'Da Vinci Code
Possible Da Vinci Workshop Uncovered
Fresh Claim that Shroud of Turin is Fake
Stay up to date on the latest science news by signing up for our Essentials newsletter.
Heather Whipps writes about history, anthropology and health for Live Science. She received her Diploma of College Studies in Social Sciences from John Abbott College and a Bachelor of Arts in Anthropology from McGill University, both in Quebec. She has hiked with mountain gorillas in Rwanda, and is an avid athlete and watcher of sports, particularly her favorite ice hockey team, the Montreal Canadiens. Oh yeah, she hates papaya.