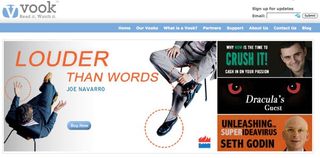 There's a new story-telling medium in town that could help the iPad put a nail in Kindle's coffin: The vook.
A vook (rhymes with "book") is an enhanced digital book that blends text with audio, full-color video and links to the Internet and social media that complement the written word and add context. Vooks can be accessed through the Web or with an application download for the iPhone and iTouch, and soon the iPad.
Only on the market since last fall, this new medium got a giant boost to its credibility recently when Anne Rice, the high priestess of Vampire Lit, published a multimedia version of her 1984 tale, "The Master of Rampling Gate," as a vook.
Her publisher, Vook, which developed the eponymous platform, plans to launch more than 500 vook titles this year.
Vook is working with filmmakers, agents, authors Eric Gower and Seth Godin, and book publishers such as Hachette, HarperStudio, and Simon & Schuster to bring new vook titles to market. Vooks retail from 99 cents to $6.99.
Kindle killer?
What vooks deliver is a true multimedia experience that makes Kindle's static gray type seem rather dull by comparison. Vook works with both authors and filmmakers to create the product, although the degree of author involvement varies.
"When we did Shakespeare's sonnets, he obviously wasn't too involved in that," said Brad Inman, CEO of Vook.
Though vooks are platform agnostic by design, the company clearly believes the iPad will be vook's sweet spot. Inman calls the new format "the end of gray" and believes that the iPad will be its tipping point.
"I'm certainly betting on it," Inman told TechNewsDaily. "We launched Anne Rice on the iPhone. Suddenly Anne Rice's story is distributed in a totally new way to an entirely new audience. And that's just a little device. Imagine a bigger device. "
Inman believes the iPad will give audiences a new way to experience great stories. Even if the device itself isn't a home run, he said, it could blaze the trail for similar multimedia devices. "It creates enormous competition by well-financed companies," he said. "If these things take off and people buy them, I don't think the other companies are going to stand by."
Others getting into the act
Vook is not the only company anticipating an iPad gold rush. Earlier this month at the Financial Times Digital Media & Broadcasting Conference in London, Penguin Books CEO John Makinson demonstrated samples of the interactive e-books his company is preparing for the iPad. Penguin has said it expects that e-books will account for 10 percent of its sales next year.
Ironically, one of the titles Makinson demonstrated was from Penguin/Razorbill Books' Vampire Academy series.
"The definition of the book itself is up for grabs," Makinson told attendees. "We will be creating a lot of our content as applications for sale on app stores and HTML, rather than in e-books. We will be embedding audio, video and streaming into everything we do."
The proliferation of alternative electronic reading and viewing devices and formats is causing high anxiety in traditional dead-tree publishing. Do these new devices mark the end of literature as we know it? Will the Kindle become road kill on the information superhighway?
Vook's Inman doesn't think so. He notes that the introduction of the PC didn't ruin writing. What he sees is opportunity and new life for literature. The vook will join paper books, audio books, and e-books as options for readers.
"This is more about adding value, giving readers alternatives," Inman said. "It's also about exposing works that are dead somewhere in warehouses, giving them new life. I think it's a way of promoting new titles. If this were going to cannibalize storytelling, I would never have started the venture. I started as a journalist, so good content is important to me."
Stay up to date on the latest science news by signing up for our Essentials newsletter.