Why We Gamble: The Enticement of Almost Winning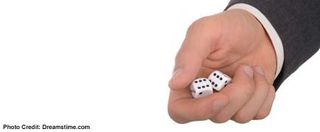 Betting on the Super Bowl, roulette, or even online poker can be thrilling, and with the advent of online gambling, it's easier than ever before. Yet winning and losing can have unexpected effects on the brain that keep people coming back for more, scientists are finding.
Gamblers sink an increasing sum of money into their efforts to win. Over the last 20 years legalized betting has grown tremendously; it's now a $100 billion industry. More than 65 percent of Americans gamble, according to Gallup's annual Lifestyle Poll conducted last year, and up to 5 percent of those betters develop an addiction to the activity.
"For most individuals, gambling is enjoyable and harmless, but for others, it is as destructive as being addicted to drugs," said Catharine Winstanley, an assistant professor at the University of British Columbia's Department of Psychology.
Kyle Siler, a sociology doctoral student at Cornell University who studied 27 million poker hands online, told LiveScience: "Gamblers have to be honest with themselves and realize when to walk away and when a bet is profitable—even under conditions of uncertainty."
Why we don't walk away
Siler's study, published recently in the Journal of Gambling Studies, showed that the more hands of poker someone plays, the higher the chances that he'll walk away with smaller profits. "They might win a lot of small battles, but they're losing the war," he said, adding that people become positively reinforced with each win and more vulnerable to a crushing loss.
After a losing hand, putting a wager on a second-place finisher, or seeing two cherries and a gold bar on a slot machine, a gambler becomes less risk averse and more willing to place a bet to get it all back, especially if the individual feels like the defeat was nearly a win.
"Gamblers see near losses as very encouraging and are very likely to continue playing the game," said Luke Clark, a researcher at the Behavioral and Clinical Neuroscience Institute at the University of Cambridge in England, who published a study on the brain circuitry related to gambling in the journal Neuron last year.
Using functional magnetic resonance imaging (MRI) to look at which parts of the brain are active under certain circumstances, Clark found that when gamblers nearly lose, the parts of their brain that are active are the same ones that are working when they win.
"A near miss is a signal that you're acquiring the skill, so it makes sense that your brain processes them as if they were a win," Clark said in a telephone interview. "In a game of skill like soccer, a near miss might be hitting the post or cross bar."
What are the odds?
The problem is when gamblers confuse a game of skill with a game of chance, Clark cautioned, in which nearly winning doesn't help explain what someone should do the next time around.
Odds are stacked for the house in every game, so no matter what psychology is at play, over time everyone will most likely lose. Still, Clark predicts that people who confuse skill and chance, called gambling distortion, are more susceptible to addiction.
"People find these near misses unpleasant; they find them more aversive than complete misses, but when you ask them how much they want to carry on they want to continue," he said. "They're very distressed by what's happened, but the next thing they do is bet again. We're trying to understand that paradox."
Stay up to date on the latest science news by signing up for our Essentials newsletter.