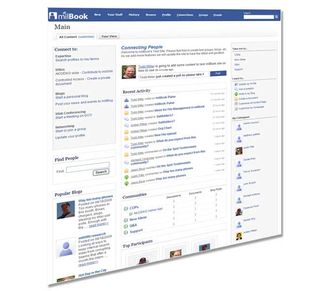 (Image credit: milTech Solutions Office)
A new Facebook-like social media site aimed at the U.S. Army tech community aims to make discussion of sensitive information easier and safer.
Called milBook, the new networking tool offers a centralized location for Army personnel to discuss military topics that were previously done through potentially insecure emails, chats, wikis and blogs.
In contrast, MilBook, which is part of a larger military project called milSuite, uses a built-in digital barrier called a firewall to thwart snooping from outside the network.
MilSuite allows the professional Department of Defense (DOD) community "to share information amongst themselves that is only intended for the internal community," said Justin Filler, deputy director of the MilTech Solutions Office, an Army organization.
Since its launch in October 2009, 18,000 users have signed up for MilBook. Like Facebook, MilBook users can choose what information they want to share. They can also create discussion threads, exchange ideas, and join groups on topics such as Army policies. The information can either be restricted to particular users or shared with the entire milBook community.
milBook can also be used to locate soldiers who have switched headquarters due to reassignment.
"People across the DoD can find professional working groups on various programs and efforts and join within seconds," said Todd Miller, an Army contractor. "MilBook not only connects people, it connects those people to military topics so that ideas and information are shared across the Armed Services."
In addition to milBook, milSuite also includes a blog and wiki tool, known as milBlog and milWiki, respectively.
The Army is experimenting with using milWiki to store and update Army field manuals.
"A Soldier redeployed from Afghanistan, for example, could access [milWiki] for site exploitation operations, make changes and add new material based on firsthand experiences in the country," said Gen. Peter Chiarelli, vice chief of staff of the Army.
MilBlog allows users to share news, photos, ideas and insights in real-time.
The 10 Most Outrageous Military Experiments
10 Technologies That Will Transform Your Life
Stay up to date on the latest science news by signing up for our Essentials newsletter.