Engineering Better Disease Detectors, Energy Storage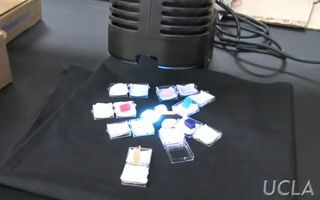 (Image credit: UCLA Office of Communications and Public Outreach)
Bruce Dunn develops next generation three-dimensional batteries, fuel cells and capacitors, including a battery powered by sugar. Along with a team of graduate students supported in part through NSF's IGERT program, Dunn and his colleagues develop three-dimensional batteries that could lead to such applications as pacemakers fueled solely by a patient's blood sugar. A video showing Dunn, his students, and their technology can be seen here, while below Dunn answers the ScienceLives 10 Questions.
Name: Bruce Dunn Age: 61 Institution: UCLA Field of Study: Materials Science
What inspired you to choose this field of study? I was undeclared as an engineering major and was able to explore the different engineering disciplines before selecting one. What appealed most to me about materials science was its interdisciplinary nature, that it links the physical sciences to various fields of engineering.
What is the best piece of advice you ever received? Do not look at graduate school as a means to an end or as a type of elite job training. Go to graduate school because you truly want to learn more about a certain field. The education you gain will always be a part of you regardless of your career path.
What was your first scientific experiment as a child? I was definitely more of the hands-on type. I loved taking apart my bicycle and the challenge of putting it back together.
What is your favorite thing about being a researcher? In academic research we have the freedom to pursue our interests and to select the topics that we find most exciting. This freedom enables us to forge new research directions and to learn new areas of science.
What is the most important characteristic a researcher must demonstrate in order to be an effective researcher? There are several attributes that a scientist must have to be effective. Determination is critical because, not surprisingly, experiments do not always go as we expected. Good ideas are worth pursuing, and a few missteps along the way should not deter us. Related to this is a rigorous sense of accuracy and integrity. In order to understand our results, we need know exactly what we did — and what we did not do. Finally, there is the element of creativity. To me this means that you have identified a research topic that no one has really thought about before.
What are the societal benefits of your research? Our biomaterials research has had applications in disease detection and health monitoring and our work on energy-related materials directly addresses problems in the area of energy storage.
Who has had the most influence on your thinking as a researcher? There are a number of people who have had an influence on my thinking. My Ph.D. advisor, my colleagues in industry and my research collaborators over the years have provided unique perspectives which I have found invaluable.
What about your field or being a researcher do you think would surprise people the most? We do a lot of travel, especially international. Science is a contact sport and interactions between individuals are an important part of the profession. These interactions give us the wonderful opportunity to meet and work with people from different countries and to be exposed to their rich cultural heritages.
If you could only rescue one thing from your burning office or lab, what would it be? My daughter made a pencil holder for me when she was in the first grade. It has been on my desk for over 25 years.
What music do you play most often in your lab or car? In the lab, the students select the music, which these days varies from 50 Cent to Coldplay. In the car, I prefer Italian opera or classic rock, depending on the traffic.
Stay up to date on the latest science news by signing up for our Essentials newsletter.