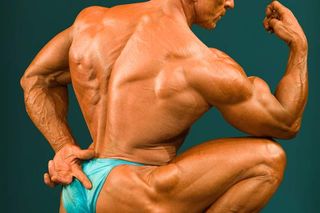 Add Hydroxycut to the list of "too good to be true" products hawked on TV and the Internet. The ubiquitously advertised fat-burner/energy-enhancer, is billed as a "natural product."
Lots of things are natural. Cyanide is natural.
(The FDA says it isn't sure what the bad stuff in Hydroxycut is.)
Hydroxycut products can cause serious health problems such as jaundice and elevated liver enzymes, an indicator of potential liver injury, the FDA concluded. Symptoms can include nausea, vomiting, light-colored stools, excessive fatigue, weakness, stomach or abdominal pain, itching, and loss of appetite (aha! weight-loss!). One death has been tied to the product.
Any good dietician or health expert will tell you that the only safe and effective way to shed pounds is through a balanced and proper diet, along with exercise. Gimmicks are, well, gimmicks. In February, the FDA issued warnings on several other diet pills that actually contain harmful stuff that's not on the labels.
Food, folks. Food!
"The FDA urges consumers to discontinue use of Hydroxycut products in order to avoid any undue risk. Adverse events are rare, but exist," said Dr. Linda Katz, interim chief medical officer of the FDA's Center for Food Safety and Applied Nutrition. "Consumers should consult a physician or other health care professional if they are experiencing symptoms possibly associated with these products."
Hydroxycut products are sold under many names, by Iovate Health Sciences Inc., of Canada and distributed by Iovate Health Sciences USA. Here are products the company has agreed to recall:
Hydroxycut Regular Rapid Release Caplets Hydroxycut Caffeine-Free Rapid Release Caplets Hydroxycut Hardcore Liquid Caplets Hydroxycut Max Liquid Caplets Hydroxycut Regular Drink Packets Hydroxycut Caffeine-Free Drink Packets Hydroxycut Hardcore Drink Packets (Ignition Stix) Hydroxycut Max Drink Packets Hydroxycut Liquid Shots Hydroxycut Hardcore RTDs (Ready-to-Drink) Hydroxycut Max Aqua Shed Hydroxycut 24 Hydroxycut Carb Control Hydroxycut Natural
Some other Hydroxycut products, among them Hydroxycut Cleanse and Hoodia, have not been recalled because they contain different ingredients.
Real Diet News & Information
Robert Roy Britt is the Editorial Director of Imaginova. In this column, The Water Cooler, he looks at what people are talking about in the world of science and beyond.
Stay up to date on the latest science news by signing up for our Essentials newsletter.
Robert is an independent health and science journalist and writer based in Phoenix, Arizona. He is a former editor-in-chief of Live Science with over 20 years of experience as a reporter and editor. He has worked on websites such as Space.com and Tom's Guide, and is a contributor on Medium, covering how we age and how to optimize the mind and body through time. He has a journalism degree from Humboldt State University in California.