FDA Issues Serious Reality Check on Diet Pills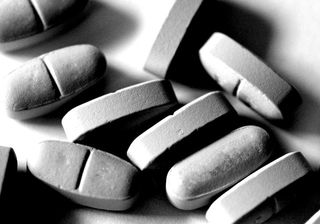 The FDA has determined that several dozen products sold as weight-loss supplements contain potentially harmful drugs that aren't on the labels.
One example, according to The New York Times: A product called StarCaps, billed as a natural dietary supplement with papaya. It illegally contains a pharmaceutical called bumetanide, which can have serious side effects.
StarCaps is made in Peru, peddled in the United States. The offending products were made mostly in China, however.
"A large percentage of these products either contain dangerous undeclared ingredients or they might be outright fraudulent on the ingredients and have no effect at all," said FDA spokesman Michael Levy. "We don't think consumers should be using these products."
If you're wondering how the heck such garbage got on the market in the first place, read on.
No teeth
The FDA has less authority to regulate many so-called "natural" products compared with mainstream food and drugs. In these cases, it can only weigh in after the products are on the market, the Times notes.
This FDA testing of dietary supplements is part of a crackdown that began in June, one welcomed by some of the largest, reputable manufacturers. Critics charge, though, that the FDA's teeth are least effective against the worst offenders, often small operations hawking impossibly promising products over the Internet. In fact, companies with fewer than 20 employees are currently exempt from FDA governance in this realm, explains LiveScience's Bad Medicine Columnist Christopher Wanjek.
Dollar-wise, all this is no small potatoes, as a glance at the ads on just about any Web site reveals right now — while much advertising has declined during the recession, diet ads have blossomed. Because: About $1.7 billion is spent annually in the United States on weight-loss pills, according to the market research firm Nutrition Business Journal.
Bloated claims
Yet right now as people tighten their financial belts, if not the ones expanding as a result of fast food excesses (did you know the recession could make you fat?), news of the contaminated products should serve as a useful wakeup call to people who rely on pills to shed pounds. Several experts interviewed by the Times said even those weight-loss products not packing harmful contaminants can be dangerous, and their value in helping people shed pounds was questioned.
In fact several studies have shown that the best diet strategy does not involve pills, but rather a wholesale approach to good nutrition coupled with exercise. Yes, you have to try. Such a strategy is good not only for the physique but for the mind — and it can even improve your sex life.
More information on the tainted products is available from the FDA.
News About Diets and Dieting
Robert Roy Britt is the Editorial Director of Imaginova. In this column, The Water Cooler, he takes a daily look at what people are talking about in the world of science and beyond.
Stay up to date on the latest science news by signing up for our Essentials newsletter.
Robert is an independent health and science journalist and writer based in Phoenix, Arizona. He is a former editor-in-chief of Live Science with over 20 years of experience as a reporter and editor. He has worked on websites such as Space.com and Tom's Guide, and is a contributor on Medium, covering how we age and how to optimize the mind and body through time. He has a journalism degree from Humboldt State University in California.