Why NFL Draft Picks Often Fail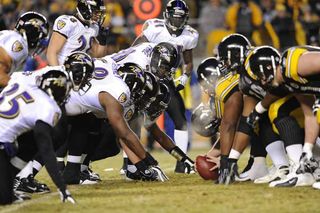 Every April, general managers and head coaches fear that their NFL Draft selection of "can't miss" college players may end up being added to the long list of past multi-million dollar draft mistakes.
So, for this weekend's 2009 Draft, they hope they have found the right matrix of information that will reveal those players with true NFL potential. One set of criteria that seems to get more media attention every year is the scouting combine, a collection of physical and mental tests given to about 300 invited prospects.
However, university researchers have now shown the tests are not good predictors of success in the NFL. According to ESPN, of the top 10 player selections in the last five drafts (50 players total), eight have been released or traded at least once and five are completely out of the league.
Teams are becoming less willing to gamble millions of dollars on a player who has not played a single snap in the league. Still, betting on talent is the name of the game. The combine event, held in Indianapolis each February, was meant to provide some common denominators to compare players. Physical tests such as the 40-yard dash, shuttle and agility runs, bench press, and the vertical jump are combined with the Wonderlic Personnel Test (WPT), a 50-question general intelligence test, to paint a profile of a player beyond his on-field resume.
Of course, teams should evaluate the whole package of game film, interviews and position-specific drills, but the combine data seems to be growing in influence. A player's stock seems to rise and fall with their performance at Indianapolis.
In fact, a 2003 Arizona State University study showed that performance at the combine was directly related to draft order, which might indicate that teams rely on these tests more than they admit. Specific combine tests also seem to make a difference in getting drafted. Last year, University of North Carolina researchers found that there were significant performance differences between drafted and non-drafted skill players in the 40-yeard dash, the shuttle runs and the vertical jump, while drafted linemen performed better in the 40-yard dash and bench press. But in a new study, Frank Kuzmits and Arthur Adams, professors at the University of Louisville, evaluated more than 300 quarterbacks, running backs and wide receivers drafted over six seasons from 1999-2004.
They compared the players' combine performance on seven physical tests and the WPT with measures of success in the NFL. These three skill positions were chosen as they have distinct performance statistics that can be tracked (as opposed to linemen or defensive players.) Each position used the success metrics of draft order, salaries for years 1-3 and games played for years 1-3. In addition, QB rating, yards per carry and yards per reception were measured for quarterbacks, running backs and wide receivers, respectively. No significant link was found between combine performance and NFL success, except between 40-yard dash times and running backs. Interestingly, even the Wonderlic aptitude test did not predict NFL achievement, even though a skill position like quarterback requires a decent amount of cognitive talent. That's not to say other psychological tests would be worthless. Kuzmits and Adams cite other studies that show a player's level of self-confidence and anxiety management to be strong clues to their future accomplishments.
Of course, not all draft picks are surrounded by great teammates and some don't even get out on the field during those first few seasons. But this research showed that good or bad performance in the combine is not related to good or bad performance on the field. So, the researchers question the value of these combine tests as a draft decision support tool. They do see a similarity between NFL teams choosing players and companies choosing employees.
"Contemporary human resource techniques could be applied to any hiring decision, including the NFL hiring process," Kuzmits told LiveScience. "Basically, teams could develop a regression equation with various success predictors weighted (college success, combine tests and interviews, awards, psychological profile, etc.). It could be done but in the end 'art' would probably trump 'science.'"
Dan Peterson writes about sports science at his site Sports Are 80 Percent Mental. His Science of Sports column appears weekly on LiveScience.
Stay up to date on the latest science news by signing up for our Essentials newsletter.