Boomers Seek 'Green' Death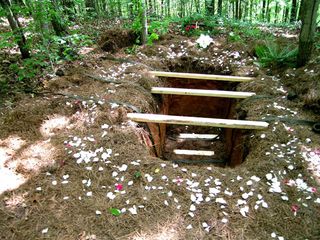 (Image credit: Ramsey Creek Preserve)
It seems going green is all the rage these days, including after you die.
Green burial—which eschews the use of embalming chemicals and caskets that refuse to biodegrade—is on the rise across North America, say trend trackers.
Environment-minded baby boomers are driving the movement, said Mark Harris, author of "Grave Matters: A Journey Through the Modern Funeral Industry to a Natural Way of Burial" (Scribner, 2007).
"I think green burial speaks to the old-fashioned values of thrift, simplicity and love for family," said Harris, "things that resonate with the vast majority of Americans."
Returning to old ways
When the first green cemetery in the United States opened in South Carolina in 1998, it was an anomaly. Ramsey Creek Preserve invited people to bury their loved ones—or plan a burial in advance for themselves—in a forest setting, with simple grave markers of natural stone or greenery.
"The body is wrapped in either a cloth shroud or put in a highly degradable coffin like one made of cardboard or pine," Harris told LiveScience, "and returned to the Earth to renew the cycle of life."
Nine states now offer burial services that can be considered environmentally sensitive, according to the Green Burial Council, a non-profit organization founded to promote the practice. The council expects to add 25 more approved locations by the end of 2007.
"Green burial is in many ways a return to the ways we used to practice burial in the first few hundred years of this country," said Harris.
Misinformation
Most importantly for the baby boomer generation choosing the green option, Harris said, is how little it impacts the Earth compared to today's conventional burials.
"Green burials appeal to environmentalists because they use less resources, produce less pollution and preserve lands," said Harris. More people would choose to go the natural route if they really knew what goes into a modern burial, he thinks.
Common practice among "normal" cemeteries is to embalm a corpse, place it in a durable metal casket and then lower the casket into a metal-lined concrete vault embedded in the earth to prevent soil collapse.
"That bucolic resting place we call a cemetery really functions more like a landfill," said Harris, who has calculated that "enough metal is diverted to coffins and vault linings every year to rebuild the Golden Gate Bridge."
Because mortuary services have remained the same for so long, most Americans assume they do not have any other option. That's just not the case, said Harris.
"When someone dies, you really can do everything on your own," Harris said. Embalming isn't required and offers no public health benefit, according to the Centers for Disease Control.
Last act gives back
Instead of preserving the body through embalming—which Harris compares to a kind of abuse of a corpse—green burials accept the reality of what actually happens after death, he said.
"Green burial lets the individual's last act be to return some of the resources they used during their life back to the Earth," said Harris, "so why not embrace the idea that the natural end of all life is decomposition?"
If nothing else, penny-pinching baby boomers might be willing to embrace the economic good sense of natural burial, which is thought to cost one half to one-third the price of a regular burial.
Top 10 Wierd Ways We Deal with the Dead
Stay up to date on the latest science news by signing up for our Essentials newsletter.
Heather Whipps writes about history, anthropology and health for Live Science. She received her Diploma of College Studies in Social Sciences from John Abbott College and a Bachelor of Arts in Anthropology from McGill University, both in Quebec. She has hiked with mountain gorillas in Rwanda, and is an avid athlete and watcher of sports, particularly her favorite ice hockey team, the Montreal Canadiens. Oh yeah, she hates papaya.