Interactive Paper Sounds Off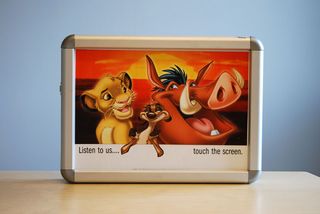 (Image credit: Mid Sweden University)
Interactive paper from Mid Sweden University uses pressure-sensitive conductive inks and printed speakers to talk with viewers. The latest generation of paper products is dubbed 'paper four' by researchers.
"The first generation of paper was for display, like books," says Mikael Gulliksson, a researcher at Mid Sweden University, Sundsvall, Sweden, "the second for packaging, and the third for hygiene - we are investigating what the fourth might be."
The interactive paper billboard (see photo) is made in layers with a three-centimeter thick back layer of Wellboard - extra-strong cardboard - forming the substrate. A sheet of paper that is screen-printed with conductive ink is then placed on the base, with a second sheet of paper on top of that with the printed design and text.
When the middle conductive layer is connected to a power supply, simple microelectronics make sounds when touch sensors are triggered. The sensors are made by printing a fine pattern of conductive lines; when current flow is altered by a hand placed upon it, the sensor fires.
Speakers are cleverly are made by printing electromagnets out of conductive ink; the paper is then stretched over a cavity (like a speaker cone) behind the billboard.
Researchers hope to make the process cheap enough to be used with product packaging as well. Other companies have used similar techniques to print RFID antennas onto paper.
This real-world development in display technology was presaged by science fiction writers. Harlan Ellison wrote about something similar to this technology in his 1974 short story do-it-yourself - a talking pamphlet:
"Uh, where are you?" Madge asked nervously. "Where am I where? the pamphlet responded in confusion. "Yes, precisely," she responded. "Dear Purchaser, you are perplexing me," the pamphlet cried. (Read more about the talking pamphlet)
In his 1965 novel The Zap Gun , sf legend Philip K. Dick imagined a comic book that could read itself and even move for you:
Before him lay the October 2003 copy of the uncivilized comic book, The Blue Cephalopod Man From Titan. At the moment, his lips moving, he examined the entertaining adventure, The Blue Cephalopod Man Meets the Fiendish Dirt-Thing That Bored to the Surface of Io After Two Billion Years Asleep in the Depths! He had reached the frame where the Blue Cephalopod Man, roused to consciousness by his sidekick's frantic telepathic efforts, had managed to convert the radiation-detecting portable G-system into a Cathode-Magnetic Ionizing Bi-polar Emanator.
(Read more about Dick's battery-powered 3D comic book)
Via BBC.
(This Science Fiction in the News story used with permission from Technovelgy.com - where science meets fiction.)
Video: See Interactive Paper Demonstration
Stay up to date on the latest science news by signing up for our Essentials newsletter.
Bill Christensen catalogues the inventions, technology and ideas of science fiction writers at his website, Technovelgy. He is a contributor to Live Science.