2030: Half the World's Population to Live in Cities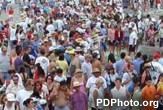 LONDON (AP)—Some 3.3 billion people—more than half of humanity—will be living in cities by next year, according to a U.N. report released Wednesday. By 2030, cities will be home to close to 5 billion. Without proper planning, cities across the globe face the threat of overwhelming poverty, limited opportunities for youth, and religious extremism, U.N. Population Fund Executive Director Thoraya Ahmed Obaid told The Associated Press in London, where the report was released.
"In 2008, half of the world's population will be in urban areas, and we are not ready for them,'' said Obaid, a U.N. undersecretary-general.
Her agency's "State of the World Population 2007'' report outlines the rate and scale of urban growth and calls for the policy initiatives to manage it.
The agency found current policy initiatives often aim to keep the poor out of cities by limiting migration and cutting lower-income housing.
"Cities see poor people as a burden,'' Obaid said. "They should be seen as an asset.''
"Investing in them in terms of shelter, education and so on would mean you have a good economic force that can work and create even further economic growth coming from cities,'' Obaid said.
Birth rates are driving urban population growth—instead of migration from rural areas, the report said. Family planning policies will be most effective in slowing urban growth—including comprehensive reproductive health services and sex education, it said.
"Urban growth, in a sense, encourages low fertility because city people have access to information and access to services and can plan their families better,'' Obaid said. "In an urban economy, women need less children but (want children) with a better quality of life and better possibilities of education.''
Smaller cities, not major metropolises, will absorb the bulk of urban growth, the report said.
"We're focusing on the megacities when the data tell us most of the movement will be coming to smaller cities of 500,000 or more,'' Obaid said.
Smaller cities may be more flexible in expanding their boundaries and adapting their policies, but they also have fewer resources and smaller governments than major cities that are more accustomed to large migrant populations.
If these smaller cities fail to meet the needs of migrant populations, they could face social unrest, including religious extremism, she said.
"Extremism is often a reaction to rapid and sudden change or to a feeling of exclusion and injustice, and the cities can be a basis for that if they are not well managed,'' Obaid said. "It's very much an urban phenomenon.''
Obaid said involving youth in the decisions and policies of growing cities is vital for dealing with issues of violence and poverty.
"My passion is to make sure youth are included in everything we do,'' Obaid said. "They are the ones always on the move, trying to find different ways of life and better life.''
Stay up to date on the latest science news by signing up for our Essentials newsletter.