100 Years Ago: Football's First Forward Pass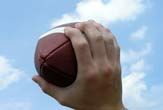 They called it the "projectile pass" back then.
On Sept. 5, 1906, Saint Louis University's Bradbury Robinson tossed a pigskin to teammate Jack Schneider. It was a remarkably creative play for the era, one that ultimately became known as the forward pass.
The game was scoreless. According to SLU archives, head coach Eddie Cochems was frustrated with the team's inability to move the ball. For weeks, they had been secretly practicing this new art of tossing the ball forward from a starting position behind the ear.
And so football's first air attack began.
And it started as you might expect, with an incompletion. Under the rules then, the ball was turned over to the opponent, Carroll College.
On SLU's next possession, though, Robinson connected with Schneider 20-yards downfield. The defense was so surprised, Schneider waltzed in for the score.
Saint Louis University beat Carroll 22-0.
There's a deadly history to this gridiron breakthrough.
The 1905 season saw several on-field football deaths and serious injuries around the country. President Theodore Roosevelt met with universities officials to find ways to make the game safer. That's when rules were modified to allow passing.
But it took awhile for the technique to take hold. For one thing, nobody knew how to pass, of course. And there were disincentives. A completion within 5 yards of the line of scrimmage was ruled a turnover. Oddly, a catch in end the end zone was ruled a touchback.
What worked in college ball was soon adopted by the pros.
The first authenticated pass completion in a pro game came on Oct. 27, 1906, when George (Peggy) Parratt of Massillon threw a completion to Dan (Bullet) Riley in a victory over a combined Benwood-Moundsville team, according to the NFL.
Some believe that Notre Dame coach Knute Rockne was the first to order a forward pass. But according to SLU officials, Rockne set the record straight in his own biography when he wrote that SLU's Cochems "...enrolled a few boys with hands like steam shovels who could toss a football just as easily and almost as far as they could throw a baseball. "One would have thought that so effective a play would have been instantly copied and become the vogue. The East, however, had not learned much or cared much about Midwest and Western football. Indeed, the East scarcely realized that football existed beyond the Alleghanies."
Saint Louis University discontinued its football program in 1949.
Stay up to date on the latest science news by signing up for our Essentials newsletter.
Robert is an independent health and science journalist and writer based in Phoenix, Arizona. He is a former editor-in-chief of Live Science with over 20 years of experience as a reporter and editor. He has worked on websites such as Space.com and Tom's Guide, and is a contributor on Medium, covering how we age and how to optimize the mind and body through time. He has a journalism degree from Humboldt State University in California.