'Drive-thru' Cosmetic Surgery Procedures Soar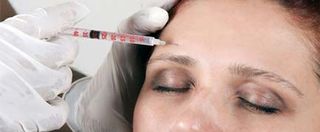 Cosmetic surgery climbed 69 percent over the last 10 years, primarily due to a hike in minimally invasive "drive-thru" procedures like Botox injections, according to a new report by the American Society of Plastic Surgeons.
A near doubling in these minimally invasive procedures — including cosmetic fillers and chemical peels — overwhelmed the 20-percent decline found for more extensive and expensive surgical procedures, like facelifts and eyelid surgeries, over the decade.
Last year, 12.5 million cosmetic procedures were performed, costing $10 billion. This was down slightly from 2008, due to the bad economy, although the decade-long trend was one of growth.
"The numbers likely reflect the baby boomers going through the system," said Howard Langstein, a plastic surgeon and professor at the University of Rochester in New York.
Beauty by knife
America's current Top 5 favorite surgical procedures: breast augmentation, nose reshaping, eyelid surgery, liposuction and the tummy tuck. The facelift, an "it" procedure earlier in the decade, lost its standing in the top five in 2005 as more attention was paid to bulging tummies than sagging cheeks. Tummy tucks rose 84 percent over the last 10 years, becoming one of America's preferred procedures.
Breast augmentation has been the most popular procedure in the United States since 2006 and increased in popularity over most of the decade, though they decreased 6 percent over the last year. And liposuction declined 19 percent from 2008 to 2009.
"Liposuction and breast augmentation patients are the patients that come to us with low financial reserves, and [the drop in] these numbers could be caused by the tightening credit market," Langstein told LiveScience.
"Women have finally recognized that the silicone device is softer, more realistic and unlikely to cause disease," he said.
Beauty by needle
As for minimally-invasive procedures, Botox is stomping out wrinkles across the country. Botox, which works by paralyzing wrinkle-causing facial muscles, rose in popularity a whopping 509 percent since 2000, or five times as many procedures. Today, it is by far the most popular age-hider in the country.
Temporary, and usually performed twice a year, Botox can become addictive, Langstein said, as it becomes incorporated into habitual grooming routines. Botox is relatively inexpensive — $300 to $500 compared with nearly $10,000 for a face-lift — but it adds up over time, he said.
The use of injectable fillers, which plump lips, soften wrinkles and help hide recessed scars, rose 164 percent over the decade, becoming one of the top five procedures in 2006 and sitting pretty in second place today.
"Most surgeons don't make very much money on the fillers," Langstein explained. "Generally, they are done to get (patients) enticed to spend more on surgical procedures."
But because of the economy, he said, "patients may not feel they have the means now for a face-lift, so they stay with the minimally-invasive procedures for longer."
Beauty for the beautiful
Where is all this beautifying happening? Surprise, surprise: The majority occurred in the region that includes, yes, Hollywood.
This region was particularly likely to go for the knife. Thirty-seven percent of all U.S. cosmetic surgeries were done in the western states (those following Mountain or Pacific Time), while the remaining procedures were evenly split over the rest of the country.
Residents of the western states also sat still for the majority of the minimally-invasive procedures, getting over 3.5 million treatments last year. The northeast, while less likely to go under the scalpel, came in second with the softer-stuff, getting 2.7 million injections, fillers and the like in 2009.
"When folks are in an area that cosmetic surgery is more accepted, then people feel if they don't have it they will be at a disadvantage," Langstein said.
Understanding the 10 Most Destructive Behaviors
Stay up to date on the latest science news by signing up for our Essentials newsletter.
Robin Nixon is a former staff writer for Live Science. Robin graduated from Columbia University with a BA in Neuroscience and Behavior and pursued a PhD in Neural Science from New York University before shifting gears to travel and write. She worked in Indonesia, Cambodia, Jordan, Iraq and Sudan, for companies doing development work before returning to the U.S. and taking journalism classes at Harvard. She worked as a health and science journalist covering breakthroughs in neuroscience, medicine, and psychology for the lay public, and is the author of "Allergy-Free Kids; The Science-based Approach To Preventing Food Allergies," (Harper Collins, 2017). She will attend the Yale Writer's Workshop in summer 2023.