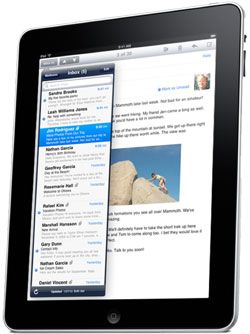 (Image credit: Apple)
With the public release of the Apple iPad looming, Elan Microelectronics, a Taiwanese chipmaker, is suing Apple, claiming many Apple products infringe on its multitouch patents.
Elan has asked the International Trade Commission (ITC) to ban imports of the iPhone, iPod Touch, MacBook, Magic Mouse and even the yet-to-be-released iPad.
"We have taken the step of filing the ITC complaint as a continuation of our efforts to enforce our patent rights against Apple's ongoing infringement. A proceeding in the ITC offers a quick and effective way for Elan to enforce its patent," the company said in a statement.
Elan says it owns patents covering "touch-sensitive input devices with the ability to detect the simultaneous presence of two or more fingers," which is exactly what these Apple products do. Apple has not released a formal response to the lawsuit yet.
This isn't the first time Elan has sued over its mutltitouch patent. Two years ago it sued Synaptics in a similar case. Synaptics ended up entering a licensing deal with Elan, but it's not a foregone conclusion that Apple will do the same thing since Apple is no stranger to prolonged legal battles.
There is also an element of irony in Apple being sued for multitouch patent infringement because the company recently brought a similar suit against smartphone maker HTC. Apple said HTC phones with the Android operating system infringed on over 20 Apple patents, including some that had to do with multitouch interfaces.
The lawsuit won't affect sales of pre-ordered iPads slated to go on sale this Saturday, many of which have already shipped.
Stay up to date on the latest science news by signing up for our Essentials newsletter.