If Football Is Deadly, Why Do We Still Watch?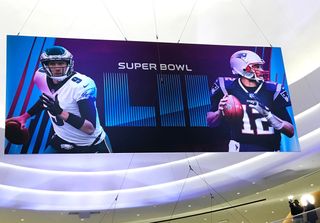 (Image credit: Shutterstock)
This article was originally published at The Conversation. The publication contributed the article to Live Science's Expert Voices: Op-Ed & Insights.
During the second quarter of Super Bowl LII, the party stopped, if just for a second.
Tom Brady found Patriots wide receiver Brandin Cooks downfield with a 23-yard completion. Cooks spun around then got laid out by the Eagles' Malcolm Jenkins, who was going full speed, leading with his shoulder.
Right in the middle of football's biggest game, there it was: another reminder of the NFL's concussion crisis. NBC commentators Cris Collinsworth and Al Michaels seemed to struggle with the fact that the play was legal.
That's where we are these days. No one knew quite what to say as Cooks looked like he had been knocked out by an absolutely routine part of the game, which sidelined him for the night.
For all that, I doubt the uncomfortable few minutes while he was treated on the field – viewers had no idea how badly he was hurt – caused more than a few fans to turn away. Based on my experience as a sports editor, my hunch is most of the tens of millions who watched had already come to terms with the game's violence.
Concussions and football
The problem of head injuries in football has gotten widespread attention over the last decade.
In 2015, for example, Will Smith's "Concussion" chronicled the work of Dr. Bennet Omalu, who identified the prevalence of chronic traumatic encephalopathy, or CTE, in football players. A Newsweek headline at the time asked: "Can a Will Smith movie change the way America views football?"
The answer then was no, in part because the movie's box-office performance was meh.
If fans and commentators ask a similar question today – can the concussion problem put football out of business? – the answer would still be no, but a qualified one. The health risks of the game aren't enough on their own to kill the sport.
Americans still (mostly) love football
There are two reasons why football won't go out of existence, despite a consistent flow of head injuries.
The first is popularity and the financial strength it yields.
While Super Bowl ratings were down, Philadelphia's thrilling 41-33 upset of New England still drew 103.4 million American viewers. That makes it the 10th most watched event in television history, behind eight other Super Bowls and the final episode of "M.A.S.H."
Not only that, the NFL dominates TV ratings all year. Little wonder league revenue has almost doubled this decade, to roughly $14 billion. The NFL is shooting for $25 billion by 2027.
Smoking, drunk driving and … football?
That leads to the second point.
The implication of that Newsweek headline is an argument that goes like this: "If fans only understood the dangers of concussions, they would turn against football, as they did against smoking or drunk driving."
But the issue is not about awareness. The New York Times reported powerfully on it as early as 2007, and a Frontline documentary in 2013 sparked a national discussion. While there is definite concern, as polling data show, most fans haven't been ready to pull the plug – at least not for that reason.
It's the same for players. The Associated Press interviewed 100 a couple of seasons ago and found only 39 were more worried about the long-term effects of concussions than other injuries.
Maybe it's this simple: We've always known football was risky, and now we know more about what that means. But if everyone knows the risks involved, then everyone should be free to do and watch what they like. There are other examples of sports and activities in a similar vein – motor racing, hockey and boxing, to name a few.
Behind the decline
Still, the NFL has undeniably suffered a ratings decline.
There are several reasons for this, from the erosion of cable television, to controversies such as what constitutes a catch, to the National Anthem protests that prompted the president to attack the NFL. I asked a class of 15 students recently if they knew someone who stopped watching because of players taking a knee. Five raised their hands, something confirmed by national surveys.
The bottom line: Head injuries don't appear to be behind the ratings drop. And it could reverse in an instant, perhaps by a Supreme Court decision legalizing sports betting. That's all it might take to boost fan interest and the league's bottom line – with $25 billion around the corner.
John Affleck, Knight Chair in Sports Journalism and Society, Pennsylvania State University
This article was originally published on The Conversation. Read the original article. Follow all of the Expert Voices issues and debates — and become part of the discussion — on Facebook, Twitter and Google +. The views expressed are those of the author and do not necessarily reflect the views of the publisher. This version of the article was originally published on Live Science.
Stay up to date on the latest science news by signing up for our Essentials newsletter.