Holiday Advisory: The Pecan Pie Problem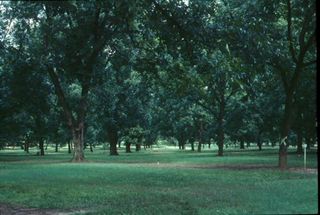 (Image credit: Tim Brenneman)
Add one more item to your list of things to stress about this holiday season. The traditional pecan pie, regardless of how you pronounce it, is at risk after summer hurricanes blew the nuts around, broke branches, and upended whole trees.
The pecan harvest will be "dramatically down," say plant health specialists with the American Phytopathological Society.
Pecans are native to the Mississippi Gulf Coast and Mexico. Native Americans were on to them long before Europeans arrived. Americans eat them up, in pies, candies and even salads, but they don't agree on what to call them. A survey last year found 45 percent say PEE-can. The rest are split between pa-KAWN and PEE-kawn.
Tough year gets tougher
Whatever you call them, Georgia produces the most -- about 120 million pounds annually. Alabama is another major producer. But this year, nut "sets," the number of nuts that formed per tree, were light even before stormy weather arrived.
"Then the hurricanes came late in the growing season and caused tremendous damage to pecan crops in these two states," said Tim Brenneman, a plant pathologist at the University of Georgia.
Georgia lost about 50 percent of an already reduced crop. Alabama, hit by Hurricane Ivan, lost 80 percent of its total crop, and up to 20 percent of the pecan trees there were destroyed.
"We aren't yet certain of the full effect the damage has had on the remaining trees," said Brenneman. "There's evidence that some trees may not fully recover."
Sales of this year's harvest began over the past two weeks. November is prime picking season.
Brenneman told LiveScience that one seller he knows is fetching $2.12 per pound, the highest in his 30 years of growing pecans. The price at your grocer will depend on how the market plays out as other pecan-growing states weigh in. Texas, New Mexico and Oklahoma also have significant pecan orchards.
"People will be able to get pecans," Brenneman said. "But they will have to pay more."
Worry over next year, too
The effect could be long term. Pecan trees take many years to reach full production, experts say, and damaged trees are at risk for other problems.
"Next year's crop is dependent on the health of the trees when they go into winter," Brenneman said. The unusually cool, wet weather also brought a fungus-like rot into central Georgia, where it normally does not pervade. It can discolor the kernels, making them inedible.
"The appearance of this disease has really compounded the situation," Brenneman said.
Some farmers have propped up toppled pecan trees this year in hopes they'll survive the winter and recover.
Stay up to date on the latest science news by signing up for our Essentials newsletter.
Robert is an independent health and science journalist and writer based in Phoenix, Arizona. He is a former editor-in-chief of Live Science with over 20 years of experience as a reporter and editor. He has worked on websites such as Space.com and Tom's Guide, and is a contributor on Medium, covering how we age and how to optimize the mind and body through time. He has a journalism degree from Humboldt State University in California.