Wi-Fi in the Sky: In-Flight Internet Takes Off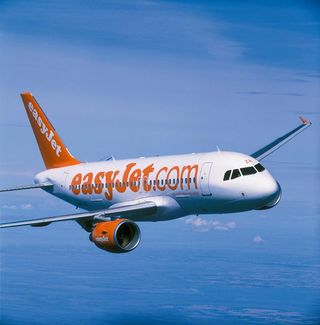 (Image credit: easyJet)
Almost no one flying with a laptop or smartphone might have expected in-flight Wi-Fi Internet access just several years ago. Now some lucky travelers have experienced free Internet access while flying this holiday season, courtesy of airline partnerships with the likes of Google and eBay.
But getting passengers to sign on as paying customers may represent a challenge.
Companies offer Internet service on certain airlines by using either satellites or cell towers to provide Wi-Fi connections for travelers. Typically the costs are steep, though some deals are to be found in the short term.
What's available
One major player backing such service, AirCell, has enabled in-flight Wi-Fi access for prices ranging from $5.95 to $12.95 per flight or day. Airlines hope passengers who get a free taste will become frequent paying customers of the service.
Google has offered the most generous gift of free Internet to all Virgin American passengers, from Nov. 10, 2009 until Jan. 15, 2010. eBay signed on with Delta Air Lines to provide complimentary Internet service to Wi-Fi users traveling on certain flights during the Thanksgiving travel period, from Nov. 24 to Nov. 30. And Lexus sponsored a similar free trial period for American Airlines earlier this month.
Major carriers such as Delta have hundreds of Wi-Fi enabled aircraft, and a few smaller airlines such as Virgin American and AirTran Airways already have AirCell's Wi-Fi service on every flight. AirTran has launched its own holiday special with a buy one, get one free Internet trial until the end of this year, and also offers a free trial session for every passenger.
Free Internet access sounds swell for passengers, as long as Google-like sponsors keep paying the bill. But airlines and companies such as AirCell still hope to earn revenue from airline customers who pay for their Wi-Fi privileges — a tough sell for most passengers, according to airline insiders interviewed by Portfolio.com. Virgin America estimates that about 12 to 15 percent of its passengers use AirCell's Gogo service.
Failed connections
Boeing also previously tried and failed to attract in-flight Wi-Fi customers with its Connexion service that ended in 2006. That does not seem to have discouraged AirCell, which jumped into the market when Verizon decided to dump its floundering Airfone business in 2006.
Verizon's action freed up a 4-MHz chunk of the wireless spectrum that was already reserved for air-to-ground communication, and so the Federal Communications Commission (FCC) auctioned it off in two parts to the highest bidder. AirCell snapped up a 3-MHz chunk, and JetBlue Airlines purchased the smaller 1-MHz slice.
AirCell obtained the necessary licenses from both the FCC and the Federal Aviation Administration to launch its service in 2008. It has built more than 92 cell towers to provide Wi-Fi coverage for continental U.S. flights, and has also invested in satellite technology to provide service over water. Some of the latest airlines to begin offering the AirCell's Gogo Wi-Fi service on select flights include United Airlines and Air Canada.
Southwest Airlines and Alaska Airlines have signed on with a different company, Row 44, to provide in-flight Wi-Fi service via satellite. And Flightglobal reports that German airline Lufthansa recently struck a deal with Panasonic Avionics to offer Wi-Fi Internet access via satellite on overseas flights.
For now, U.S. travelers who can't do without Facebook, Twitter, e-mail or YouTube at cruising altitudes can search for flights with Wi-Fi access by using American Airlines' Wi-Fi widget or other airline websites.
10 Profound Innovations Ahead
This article was provided by TopTenREVIEWS.
Stay up to date on the latest science news by signing up for our Essentials newsletter.
Jeremy has written for publications such as Popular Science, Scientific American Mind and Reader's Digest Asia. He obtained his masters degree in science journalism from New York University, and completed his undergraduate education in the history and sociology of science at the University of Pennsylvania.