Why 'Willy' Could Never Be Free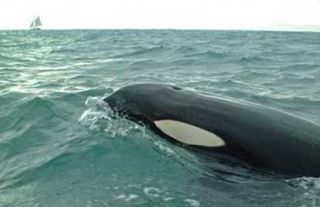 (Image credit: F. Ugarte/arc-pic.com)
In 1998, with much fanfare, a 20-year-old orca named Keiko took a one-way trip on an Air Force cargo plane from Oregon to Iceland. There, attended by dozens of biologists and trainers, and at a cost reportedly topping $20 million, the orca was gradually reintroduced to his native waters.
Keiko, of course, had starred in three "Free Willy" movies, which sparked a public campaign to free him after nineteen years in captivity.
But things didn't quite turn out as planned.
A team of his former caretakers, led by Malene J. Simon of the Greenland Institute of Natural Resources in Nuuk, has analyzed logs of Keiko's behavior and data from satellite tags recording his travels and dives. They point out that Keiko never managed to integrate with Icelandic orca pods and didn't seem to do much diving or fishing. He spent two several-week-long stretches on his own at sea, but ultimately chose to return to human care.
Perhaps it was his affinity for frozen fish and human companionship that drew him back. He died of pneumonia in 2003, inside an open-access pen in a Norwegian inlet.
Simon's team concludes that Keiko was never a good candidate for reintroduction in the first place. Unlike the few captive marine mammals that have been successfully freed, Keiko had spent too long in captivity from too young an age, and was too strongly bonded with people, to have much chance at re-entry. Even the best intentions, and plenty of cash, can't necessarily undo the taming of a giant, it seems.
The findings were detailed in the journal Marine Mammal Science.
Video - Why Whales Are Starving
The Most Incredible Animal Journeys
World's Biggest Beasts
Stay up to date on the latest science news by signing up for our Essentials newsletter.