These Nifty Transparent Speakers Could Speak Directly to You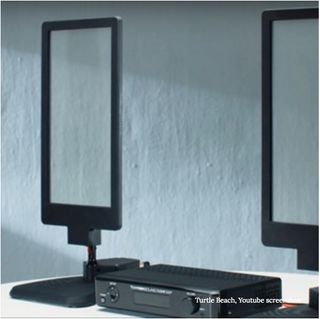 (Image credit: Turtle Beach, Youtube screenshot)
Let's hear it for magical audio beams. A new pair of transparent glass speakers with directional audio promises to speak directly to you. Yeah, you, and not the other passengers in the car who are trying to sleep.
The HyperSound glass directional speakers made by Turtle Beach generate a narrow beam of audio in the air targeted at listeners. This is similar to the way a flashlight illuminates a specific area, the company explained online.
RELATED: Top 10 Uses for Invisibility Tech
Details for exactly how they work hasn't been disclosed, but the effect is produced from electronics and multiple layers of transparent films over the glass, according to the company's description.
While the HyperSound glass speakers certainly aren't the only transparent ones — check out this sweet version from Swedish design firm People People -- they do appear to be the first that boast directional audio. The speakers will be on display for the first time at the 2016 Electronics Entertainment Expo in Los Angeles from June 14 to 16.
RELATED: Sound Waves Focused Into Laserlike Beam
Beyond the novelty, there are potential applications that make sense to me. Turtle Beach CEO Juergen Stark recently mentionedintegrating the technology into automotive dashboard glass to provide warnings directed at the driver.
The company is also talking about licensing the audio tech. I've long been wondering when we'll see those fictional holographic Gryzzl devices from "Parks and Recreation" in real life. Adding directional audio could help with that. See the speakers rotate and hear the directional audio effect here:
Originally published on Discovery News.
Stay up to date on the latest science news by signing up for our Essentials newsletter.