Emmanuel Vincent holds a Ph.D. in climate science and is the founder of Climate Feedback (@ClimateFdbk), a global network of scientists who provide readers, authors and editors with feedback about the accuracy of climate change media articles. Daniel Nethery is editor of Climate Feedback. He holds a Master of Science in oceanography and is a Ph.D. candidate at the Crawford School of Public Policy in Australia. He is a contributor to Inside Story, The Canberra Times, Age, and The Conversation. The authors contributed this article to Live Science's Expert Voices: Op-Ed & Insights.
An opinion piece published Jan. 24 in The Wall Street Journal presented false and misleading statements as if they were fact. In the op-ed, entitled "The Climate Snow Job," author Patrick Michaels suggests that scientists manipulate data to create the illusion that our planet is warming faster than it is, and downplays the magnitude of the consequences climate change has on economic losses. The essay ignores the preponderance of evidence that now leads businesses, economists, and even the recent World Economic Forum to recognize climate change as one of the top sources of financial risk.
There is no "snow job" in the climate data, according to an evaluation of the Michaels op-ed by 10 scientists, all experts in the field.
Reality trumps opinion
Even though Michaels has published peer-reviewed articles about climate science (most from one to two decades ago), the views he expresses in his op-ed are at odds with the current state of science and evidence emerging from the past two decades of research.
The false or misleading statements range from how global temperatures are measured to the effect of El Niño on global temperature, to the economic impact of climate change. Michaels claims, for instance, that "between 1910 and World War II, temperatures rose three-quarters of a degree Fahrenheit while carbon dioxide from economic activity could not have warmed us up."
This is inaccurate, as explained by Shaun Lovejoy, professor in Nonlinear Physics at McGill University, who showed that "by 1944 there was already about 0.3 Celsius (0.5 Fahrenheit) of anthropogenic [human-caused] warming" in results he published in 2014 in Geophysical Research Letters and as seen on the figure below (adapted from the publication's Fig. 1a).
Beyond the claims
By mentioning so many distinct aspects of climate science, Michaels intends to pass himself off as an authority on climate science while presenting readers with three unsupported, misleading claims.
Claim 1: Michaels claims that the warming predicted by climate models is too high: "It is therefore probably prudent to cut by 50 percent the modeled temperature forecasts for the rest of this century."
This is the opinion of the author — yes it is an op-ed, but there is no solid basis in science for such a claim. Climate models have successfully projected changes in climate observed in recent years, as shown by Kevin Cowtan, staff scientist at the University of York, and his colleagues in 2015 in Geophysical Research Letters, as well as by Jochem Marotzke, research director at the Max Planck Institute for Meteorology, and Piers Forster, professor of physical climate change at the University of Leeds, in 2015 in Nature (opens in new tab).
The figure below also illustrates this nicely: The global temperature in 2015 as forecasted in 2000 lies precisely where the models indicated it would.
Claim 2: Michaels claims, "The notion that worldwide weather is becoming more extreme is just that: a notion, or a testable hypothesis."
Some extreme weather events — such as heat waves and heavy downpours — are becoming more severe and are occurring with greater frequency. The consensus among scientists is that those changes relate to climate change, and more importantly, evidence suggests such severe events will increasingly affect societies in the future. This became clear with the publication of the SREX report by the Intergovernmental Panel on Climate Change in 2012.
Michaels also attempts to cast doubt on the science by claiming that the economic cost of extreme weather has remained stable over the past quarter century. The author misleads the reader into concluding that because the economic cost of extreme weather has not increased, extreme weather cannot have increased. But this reasoning presents only the tip of the economic iceberg.
Laurens Bouwer, a senior risk analysis adviser at Deltares, an independent institute for research in the Netherlands, told Climate Feedback that the claim that losses caused by severe weather have remained stable over the past 25 years is "not accurate." "There is an upward trend in losses, only after correction for population growth and wealth increase, this trend disappears … So Patrick Michaels is misusing scientific information and consensus," Bouwer said.
The Michaels essay also belies the extent to which insurance agencies recognize the risks that climate change poses. In his article, Michaels cites data from Munich Re, one of the largest reinsurance companies in the world, to support his case that climate change does not present major economic risks. By contrast, the head of Geo Risks Research and Munich Re's Corporate Climate Centre, Peter Höppe, has publicly stated that "climate change is one of the greatest risks facing humankind this century. Through a part of its core business, the insurance industry is directly affected and therefore assumes a leading role in devising solutions for climate protection and adaptation to the inevitable changes."
Claim 3: Michaels claims, "Without El Niño, temperatures in 2015 would have been typical of the post-1998 regime."
This is false. The current El Niño event contributed only a few tenths of a degree to the record global temperature observed in 2015, according to a study by scientists from NASA and the National Oceanic and Atmospheric Administration (NOAA). [What's Cookin'? Earth, Basically. But It's Not El Niño's Fault]
The year would have gone down as the hottest on record even without the El Niño event, as explained in this article by The Carbon Brief.
The idea is that an El Niño event usually has a greater effect on atmospheric temperatures the year following the event. For instance, the El Niño event of 1997 caused the global temperature to spike in 1998; this is why scientists anticipate that 2016 could be even hotter than 2015 (opens in new tab).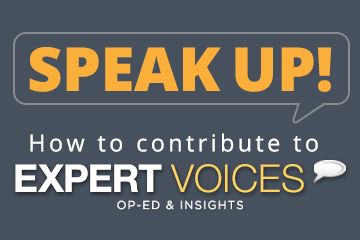 Michaels would have his readers believe that the observed increase in global temperature, underlined by the news of the hottest year on record, is "business as usual." And yet, by a wide range of measures, the reality is far from usual. Readers should draw the conclusion that no matter how conclusive the evidence, climate contrarians intend to go about their "business as usual," casting doubt on carefully gathered, deeply investigated science.
For more claims made by Michaels that have been debunked by scientists and current data, read this detailed analysis on Climatefeedback.org. Climate Feedback is a global network of scientists who collaborate to assess the credibility of major sources of climate change media coverage using cutting edge technology of Web annotations developed by Hypothes.is.
The following scientists analyzed the Michaels op-ed: Rasmus Benestad, Norwegian Meteorological Institute; Laurens Bouwer, senior adviser, risk analysis, Deltares; Peter de Menocal, director, Center for Climate and Life, Columbia University; Jennifer Francis, professor at Rutgers University; Shaun Lovejoy, professor at McGill University; Ken Mankoff, Pennsylvania State University; James Renwick, professor at Victoria University of Wellington; Victor Venema, University of Bonn; Emmanuel Vincent, University of California, Merced; Britta Voss, U.S. Geological Survey
Follow all of the Expert Voices issues and debates — and become part of the discussion — on Facebook, Twitter and Google+. The views expressed are those of the author and do not necessarily reflect the views of the publisher. This version of the article was originally published on Live Science.