Solar Job Boom Continues As Prices Spur Demand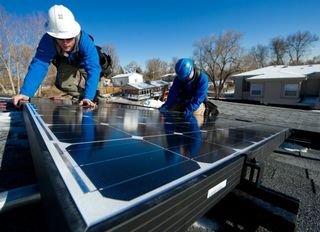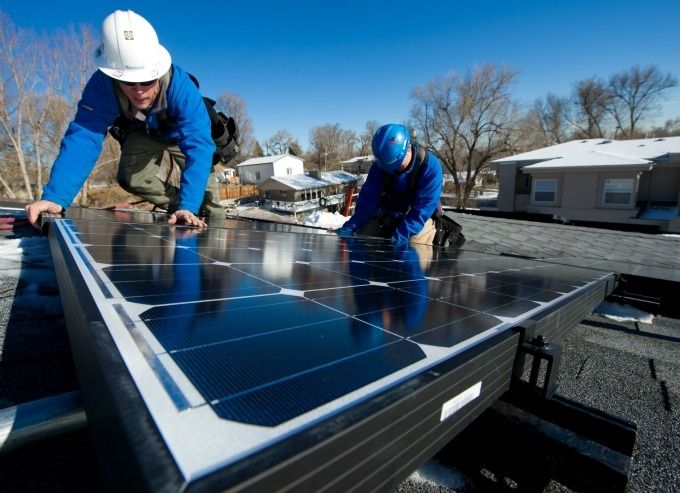 (Image credit: Dennis Schroeder, NREL.)
The U.S. solar power industry continued its hiring spree in 2015, growing nearly 12 times faster than overall U.S. employment.
The solar industry has seen 123 percent growth in employment since 2010, adding 115,000 jobs in that time. Last year, industry employment totaled 208,859, with 35,000 new jobs added in 2015, up from about 31,000 in 2014, according to the annual solar jobs census released by The Solar Foundation on Tuesday.
"Solar is surging," former U.S. Labor Secretary Hilda Solis said in a statement. "Renewable energy employment is on track to transform our world, helping to lessen our reliance on coal and other polluting fossil fuels."
The foundation had expected jobs in the industry to grow by 36,000, but it missed that projection. Overall, year-over-year employment growth in the U.S. solar power industry was somewhat flat, growing by 20.2 percent in 2015, down from 21.8 percent in 2014. Growth in 2013 was 19.9 percent, adding 23,682 jobs that year.
Solar Foundation Executive Director Andrea Luecke said she did not know why the industry's job growth was flat last year, but that the pace of earlier hiring may have been tied to the industry's rush to expand before a 30 percent federal solar investment tax credit expired.
North Carolina, Georgia Growing New Crop of Solar Farms Solar Energy Jobs Growing By Leaps and Bounds Cities Could Be Ideal for Utility-Scale Solar Plants
Congress extended the tax credit at the end of last year, however, which will likely result in lower solar industry employment growth in 2016, according to the census. Growth this year is expected to total about 30,000 new jobs.
Solar power in the U.S. has seen tremendous growth since 2010 as solar panel costs have continued to fall and state and federal climate policies, such as the Obama administration's Clean Power Plan, have given solar and other low-carbon electricity sources a boost.
Solar is seen as one of the primary low-carbon alternatives to coal-fired power plants, the globe's largest source of greenhouse gas emissions driving climate change. About 25 percent of all the nation's solar power capacity has been installed in just the last year, according to the census. However, solar remains a small player in the U.S., representing about 1 percent of U.S. electric power generation.
Most of the employment growth in the solar industry is in solar panel installation, which covers about 80 percent of all the jobs in the industry.
Solar jobs are well-paying. Installers earn an average of $21 per hour, while designers make $27 per hour and sales and marketing workers earn $29 per hour.
"It takes people to install (solar panels), and you have 80 percent of the jobs on the demand side," Luecke said. "The more demand you have, the more need you have for those jobs — a signal the industry is healthy and growing."
Eventually, the solar industry will begin growing much faster than its employment as technology advances, she said.
"At some point, we may see solar workers leveling out as the industry becomes more efficient and automated," Luecke said.
You May Also Like: El Niño Heat Peaks, But Impacts Still to Come El Niño Could Usher in a Decade of Stronger Events Earth Has Lost a Third of Arable Land in Past 40 Years With CO2 Boost, Marshes Can Rise to Meet Flood Risks
Originally published on Climate Central.
Stay up to date on the latest science news by signing up for our Essentials newsletter.