Military Sensor Hears Through Walls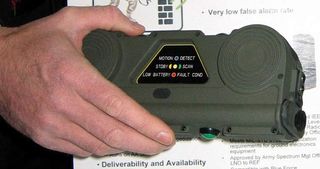 (Image credit: American Forces Press Service)
A new handheld radar scope from the Defense Advanced Research Projects Agency (DARPA) can provide troops with an ability that was formerly the province of science fictional superheroes alone—the ability to sense through up to 12 inches of concrete whether someone is in the next room.
The Radar Scope is expected to be in use in Iraq by spring of this year, according to DARPA's Edward Baranoski. Weighing just 1.5 pounds, the device is about the size of a telephone handset and will cost about $1,000. Waterproof and rugged, it runs on AA batteries. Held up to a wall, users will be able to sense movements as small as breathing up to fifty feet into the next room.
Science fiction writers have been working on this idea for generations. Golden age writer E.E. "Doc" Smith wrote about a spy ray in his 1934 novel Triplanetary. DARPA has yet to actually come up with an actual sci-fi life detector like the one that Frank Herbert wrote about in 1958 in his story Cease Fire:
Still, the handheld Radar Scope is a remarkable invention, and should make the task of searching buildings at least a bit less dangerous. Read more at DefenseLink.
(This Science Fiction in the News story used with permission from Technovelgy.com - where science meets fiction.)
Stay up to date on the latest science news by signing up for our Essentials newsletter.
Bill Christensen catalogues the inventions, technology and ideas of science fiction writers at his website, Technovelgy. He is a contributor to Live Science.