Hot Oceans Are Killing Coral Reefs Around the World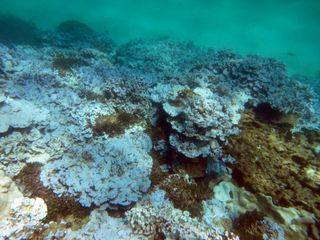 (Image credit: NOAA)
For the past year, the world's corals have been getting increasingly pummeled by climate change. Now with El Niño kicking ocean heat into overdrive, much of the world's oceans have turned deadly for the world's corals.
On Thursday, the National Oceanic and Atmospheric Administration (NOAA) announced a global coral bleaching event. This year joins the ranks of 1997 and 2010 as the only times on record that bleaching has occurred in all three of the world's oceans that support coral at the same time.
All three global bleaching events have occurred in El Niño years, and the climate phenomenon definitely has a role to play. But the ever-rising temperatures underwater and above due to climate change are the biggest reason corals are currently dying off across a 4,600-square mile area in the Atlantic, Indian and Pacific oceans.
Great Barriers: Reefs First Line of Coastal Defense What Will Survive in Hot, Acidic Oceans? Acidic Oceans Could Quiet Coral Reefs
"The baseline temperature has heated so much that reefs are no longer able to cope with what's normal in El Niño years," Richard Vevers, director of the XL Catlin Seaview Survey, said. "These events are going to become more and more common as climate change goes on. Coral bleaching is such a spectacle; the equivalent above water would be a rainforest turning white."
Once ocean waters warm past a certain threshold, coral begin to die off because they can't support the algae that sustain them. The result is ghostly forests of white coral.
Without the protection of reefs, small islands lose their first line of defense against storm surge as well as ecosystems that support fisheries and tourism for more than 500 million people. Reefs also support about a quarter of all marine species despite covering less than 0.1 percent of the world's oceans. In addition to bleaching, ocean acidification and wild sea level swings due to El Niño are also conspiring to cripple reefs.
The current spate of bleaching began in 2014, a year that saw record warmth on both land and sea. Temperatures have since continued to climb in 2015 (and 2016 is already looking pretty hot, too), resulting in coral dying off everywhere from the Caribbean to Hawaii to the Indian Ocean's Coral Triangle.
The die-off around Hawaii has been particularly worrisome with more than a third of the island chain's coral experiencing bleaching since 2014, including areas that have never seen bleaching occur before. Mark Eakin, the coordinator of NOAA's Coral Reef Watch, said that by the year's end, more than 60 percent of the state's corals could suffer the same fate. All told, 95 percent of the corals in the U.S. are expected to be exposed to bleaching.
Because of the magnitude of the strong El Niño and the growing climate change signal in the oceans, Eakin said that NOAA is issuing an extended forecast for reefs through May for the first time. It is not a good forecast for reefs.
"The worst part about it is if you look at Indian Ocean, its showing that the thermal stress is going to be worse in 2016 than 2015," Eakin said.
NOAA scientists have been working with Catlin Seaview Survey to monitor reefs before, during and after bleaching events to see the impacts occurring in real time. Vevers and his team have been using high resolution, panoramic photography that provides valuable scientific information on how different species are affected by heat as well as powerful images that show the impacts of climate change on some of the world's most delicate ecosystems.
As much as the efforts are helping scientists identify the impacts climate change is having on corals, it's also helping them identify areas and species that can survive in ever-warming waters.
"One thing that imagery provides us with is information on places where we should be putting more investments and taking more action to protect reefs that may be resilient to climate change," Eakin said. "The other is by demonstrating the rate at which we're losing resources. It provides very valuable information on what we stand to lose by not addressing climate change and the importance of addressing climate change and doing it quickly. We stand to lose a lot."
You May Also Like: Study Ties Warming Temps to Uptick in Huge Wildfires Tar Sands Mining Makes Leap from Canada to Utah NASA Satellite Captures 3-D View of Hurricane Joaquin Scientists: Offshore Wind a 'Missed Opportunity' in U.S.
Originally published on Climate Central.
Stay up to date on the latest science news by signing up for our Essentials newsletter.