Skinny Jeans Gave Woman Nerve and Muscle Damage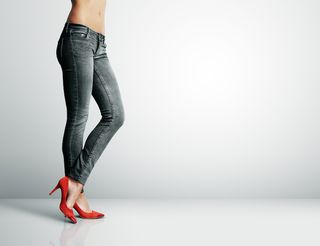 (Image credit: BeautyBlowFlow/Shutterstock.com)
A woman in Australia who spent long hours squatting while wearing skinny jeans experienced muscle damage in her legs that was so severe it impaired her ability to walk, according to the new report of her case.
The woman regained the ability to walk unaided after being treated at a hospital for four days, according to the report.
"We believe it was the combination of squatting and tight jeans that caused the problem," said Dr. Thomas Kimber, of the Royal Adelaide Hospital and Department of Medicine in Adelaide, South Australia, who treated the woman.
The case happened about six months ago, Kimber told Live Science. The 35-year-old woman arrived at the hospital and told doctors she was having severe weakness and numbness in her ankles. She had spent the previous day helping a relative move, and had squatted for long periods of time while emptying closets. The woman was wearing tight, skinny jeans that day.
The woman recalled that her jeans felt increasingly uncomfortable during the day. As she was walking home from her relative's house that evening, her feet started feeling numb, and eventually she tripped and fell. The woman was unable to get up and she spent a few hours lying on the ground before she was found.
When she arrived at the hospital, her calves were so swollen that the medical staff had to remove the jeans by cutting off the fabric. The woman was unable to move her ankles or toes, and her lower legs and feet were numb. She was given fluids intravenously as part of her treatment. [7 Beauty Trends That Are Bad for Your Health]
When her doctors examined her, they found that the muscles and nerve fibers in in her lower legs were damaged because they were compressed while she was squatting, and the tight jeans exacerbated the compression.
Wearing the jeans likely reduced the supply of the blood flowing to the muscles in her legs, which then led to the swelling of the muscles and compression of the nerves, according to the report.
Kimber stressed that wearing skinny jeans is generally safe. "However, people should be careful about squatting for long periods of time while wearing them," he said.
If people experience any discomfort or tingling from wearing tight jeans while squatting, they should stand up and move around, he advised.
The new report was published today (June 22) in the Journal of Neurology, Neurosurgery & Psychiatry.
Follow Agata Blaszczak-Boxe on Twitter. Follow Live Science @livescience, Facebook & Google+. Originally published on Live Science.
Stay up to date on the latest science news by signing up for our Essentials newsletter.