A Few of the Amazing Spiders I've Met (Photos)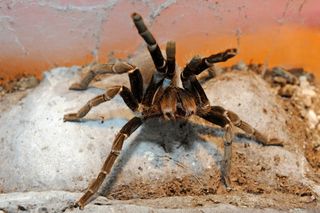 (Image credit: Julie Larsen Maher ©WCS; Craig Gibbs, Assistant Curator of Queens Zoo)
Julie Larsen Maher is staff photographer for the Wildlife Conservation Society (WCS), the first woman to hold the position since the society's founding in 1895. In addition to field visits, Maher photographs the animals at WCS's five New York-based wildlife parks: the Bronx Zoo, Central Park Zoo, New York Aquarium, Prospect Park Zoo and Queens Zoo. She contributed this article to Live Science's Expert Voices: Op-Ed & Insights.
With eight eyes, eight legs, and a pair of fangs, spiders are among the coolest of the creepy crawlers.
Spider bites can be painful, and sting or itch, and spiders with hair can irritate the skin, if touched, but most spiders are not harmful to humans. Instead, spiders are experts at pest control, as they devour the insects that would otherwise destroy crops and gardens. And they often enjoy a good mosquito before it enjoys us.
There are more than 35,000 species of spiders spinning their silk in most parts of the world. I have had the privilege of meeting just a few. (Images Credit: Julie Larsen Maher ©WCS.)
Madagascar Orb Weaving Spider
Female Madagascar orb weaving spiders are much larger than the males. Males try to mate with females while they are busy feeding and aren't paying attention to their surroundings. Occasionally, more than one male at a time can be found in a female's web. These spiders prefer the hot and muggy tropical climate in Madagascar. This spider in the wild is missing a leg, which is fairly common and does not stop the spider from spinning a web or killing prey.
Madagascar Orb Weaving Spider in Web
Spinning the strongest web on the island helps Madagascar orb weaving spiders catch their meals of flies, mosquitoes, moths, and even bats and small birds. These spiders can connect their webs to cover huge spaces in undisturbed areas. They wait near the center of their webs to snare their unsuspecting prey.
Goliath Bird-eating Tarantula
Among the world's largest spiders, Goliath bird-eating tarantulas, live up to their moniker in both size and choice of menu items with a leg span of about 11 inches. They capture and eat birds in the South American rain forests they inhabit. Their burrows are often lined with their silk, which extends out of their burrows for some distance and serves as an extension of their senses as they detect vibrations from prey walking across the mat of silk.
Malagasy Green Lynx Spider
Some species of lynx spiders have been associated with plants that have sticky hairs, which they use to help them catch insects since the spiders do not make webs of their own to capture prey. They have excellent vision and can either chase down or ambush their prey. While lynx spiders don't construct a full web, they do lay down drag lines of webbing to keep them connected to plants, as seen in this photograph.
Hermit Spider
Although there are only four species of hermit spiders worldwide, they are very common in human dwellings and show an amazing variation in size and color. After a female hermit spider anchors her web to a tree trunk, a male or two move in with her. Males are smaller than the females and do not build their own webs, often lacking the organ to produce the sticky silk they would need to build an effective one.
Tarantula
Large and hairy, tarantulas are often the stuff of nightmares. Their bite is not as tough as their reputation — it can hurt, but is harmless to humans. Perhaps more worrisome are the defensive hairs they have on their abdomen, called urticating hairs. These hairs are barbed, and the tarantula can use its hind legs to kick them off and into the air. These small hairs can cause uncomfortable rashes when they land on the skin and can do real harm if they make it into the eyes. Insects are the tarantula's main prey, but they also eat small reptiles, mammals and birds.
Red kneed Tarantula
Found in burrows in semi-desert areas of the southwest United States and Mexico, red kneed tarantulas are a long-lived species — up to 30 years. They don't spin a web, but instead wait for their prey (small birds, mammals and reptiles) to fall into their lair. Red kneed tarantulas are one of the few terrestrial invertebrates for which zoos are developing a cooperative breeding program. (Credit: Julie Larsen Maher ©WCS.)
Cameroon Red Tarantula
Also known as the Cameroon baboon spider, the reclusive Cameroon red tarantula uses an underground system of tunnels and burrows for shelter. Underneath its "bangs" is a pair of fangs. Social spiders are very rare, and almost nonexistent in the tarantulas. However, it has been reported that spiderlings of this species will remain and co-habitate with their mother in the maternal burrow and share food as juveniles.
Florida Orb Weaving Spider
Like their cousins from Madagascar, Florida orb weaving spiders prefer warmer temperatures. Their shapely legs are jointed and perfect for weaving webs. The bushy segments on the spiders' legs are called gaiters, and are signs of juvenile spiders, with the adults losing them in later stages. With a spider this large living in the tropics, keeping cool is a big issue. Studies have found that the spiders will orient themselves so that the tip of the abdomen is facing the sun, thus reducing the amount of radiant heat that the spider is exposed to. The spider will also "sweat" by expelling water through its fangs to help with evaporative cooling.
The captions were written with entomologist Craig Gibbs, assistant curator of Queens Zoo. For more animal photos and stories, check out the Wildlife Conservation Society's photo blog, Wild View, including the posts Creepy Crawlers and Sealed with a Hiss.
Follow all of the Expert Voices issues and debates — and become part of the discussion — on Facebook, Twitter and Google+. The views expressed are those of the author and do not necessarily reflect the views of the publisher. This version of the article was originally published on Live Science.
Stay up to date on the latest science news by signing up for our Essentials newsletter.