Drones and Planes Will Live-Track NASA's Orion Capsule Launch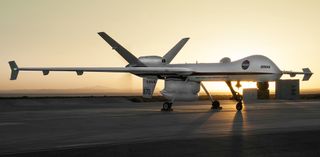 (Image credit: NASA/Ken Ulbrich)
NASA will launch its Orion spaceship — the agency's deep-space capsule built to carry humans on future missions to an asteroid and Mars — on an unmanned test flight tomorrow (Dec. 4), but as the spacecraft rockets thousands of miles away from Earth, it won't be alone. A NASA drone, two U.S. Navy planes and several helicopters will join the capsule for at least part of its journey.
Eventually, Orion will carry humans deep into space, but for tomorrow's test flight, the capsule will travel 3,600 miles (5,800 kilometers) from home before re-entering Earth's atmosphere at an estimated 22,000 miles per hour (35,400 km/h). And as the space capsule zooms to the ground at breakneck speed, NASA and Navy aircraft will be in the sky, recording Orion's every move.
One of the purposes of the test-flight mission is to determine how well the Orion capsule holds up to the huge change in temperature that it will experience when re-entering Earth's atmosphere, according to Tom Horvath, a principal investigator with NASA's Scientifically Calibrated In-Flight Imagery (SCIFLI) team, who said that Orion will experience temperatures "from very cold to up to 4,000 degrees Fahrenheit [2,200 degrees Celsius]." [Orion's First Test Flight: Full Coverage]
The SCIFLI team plans to capture thermal images of this super-hot re-entry using a Navy NP-3D plane, which is also called Orion. This Orion plane, which is typically used for surveillance and data collection, is equipped with a long-range infrared optical system. Once the space capsule launches on Thursday, the Navy aircraft will fly to a location that's about 25 miles (40 km) away from the capsule's projected point of re-entry, according to NASA officials.
The plane will keep flying until the space capsule enters the atmosphere and emits enough thermal energy for the aircraft's infrared cameras to start recording. Onboard, the plane's crewmembers will also snap photos of the spaceship as it descends.
"This is going to be a tough one. Orion will come through the atmosphere at 20,000 miles an hour as a tiny dot in the sky. With the capsule initially hundreds of miles away, it is like we are looking for it through a small soda straw," Horvath said in a statement. "It's all about getting the aircraft positioned at the right location at a precise point in time."
But if the SCIFLI team can accomplish this mission, then it will have the data it needs to determine just how hot the Orion space capsule gets during re-entry, Horvath said. The team may also use the infrared camera on board the NP-3D aircraft to observe any rapid increases in surface temperature on the space capsule. These temperature increases are caused by surface roughness on the capsule's heat shield, an epoxy resin that coats the capsule and protects it from coming apart during re-entry. Predicting and protecting against such temperature increases is difficult, Horvath said.
"These observations of exterior temperatures will help reduce uncertainty in our computer models," said Gavin Mendeck, an Orion systems engineer at NASA. "We think we are conservative, but this real-life data will help us understand just how conservative."
While the NP-3D Orion circles near the spaceship's point of re-entry, another aircraft — NASA's Ikhana drone — will fly south of the capsule's projected entry location. The drone will capture video footage of the capsule's descent into the Pacific Ocean that will be broadcast live on NASA TV.
In addition to the drone and the NP-3D aircraft used by the SCIFLI team, another Navy NP-3D is scheduled to take to the skies for Orion's test flight. But this plane's mission isn't to measure heat; it's to get a good look at the spaceship's landing equipment as the craft zooms back to Earth, NASA officials said.
"We want to verify and document how the parachutes perform," Mendeck said. "The first chutes — the drogues — deploy at an altitude of 22,000 feet [6,700 meters]."
After these small parachutes are released to stabilize and decelerate the aircraft, three huge main parachutes deploy, slowing Orion down to less than 20 mph (32 km/h) for its final splashdown in the Pacific Ocean.
Recovery of the space capsule will be easier thanks to two Navy MH-60S Knighthawk helicopters, which will observe and record the final 10,000 feet (3,000 m) of Orion's journey, according to NASA officials. Equipped with handheld infrared cameras, the helicopters will assist crewmembers aboard the USS Anchorage, the vessel charged with recovering the spacecraft after its first test flight.
Follow Elizabeth Palermo @techEpalermo. Follow Live Science @livescience, Facebook & Google+. Original article on Live Science.
Stay up to date on the latest science news by signing up for our Essentials newsletter.
Elizabeth is a former Live Science associate editor and current director of audience development at the Chamber of Commerce. She graduated with a bachelor of arts degree from George Washington University. Elizabeth has traveled throughout the Americas, studying political systems and indigenous cultures and teaching English to students of all ages.