Disaster Planning With Pets in Mind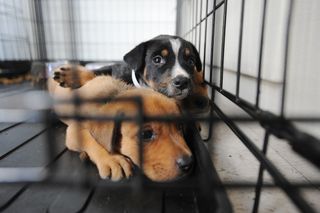 (Image credit: Jocelyn Augustino/FEMA)
Wanda Merling is the senior manager of the disaster services program for the Animal Rescue Team at The Humane Society of the United States (HSUS). She contributed this article to Live Science's Expert Voices: Op-Ed & Insights.
Last month was Disaster Preparedness Month — but even if you are prepared for a disaster, are your pets?
The best way to keep yourself and your family — both people and pets — safe during a hurricane, tornado, wildfire or any other disaster is to have a good emergency plan and kit prepared. If you are in the path of a storm, keep pets indoors, and if asked or ordered to evacuate in the face of a potentially destructive event, always bring your animals with you. If it's not safe for you, it's not safe for your pets.
Getting prepared
While the paths and strengths of tornadoes, hurricanes and tropical storms are often uncertain, we have a checklist of things pet owners can do in preparation for a potential evacuation. For starters:
Put a collar with visible identification on your pet, even if he or she is indoor-only;
Keep pictures of your pets on-hand for identification purposes. Ideally, you should also be in the photo;
Talk to your neighbors about how they can help your pets if you are not at home when disaster strikes;
Create a list of hotels and boarding facilities that allow pets — plan on evacuating about 100 miles inland for hurricanes and tropical storms;
Discuss bringing pets with you if you leave to stay with family members.
One of the most important things you can do is create a pet emergency plan and kit that is available for you to quickly grab and go, and it should include all of the following:
Three-or-more-day supply of food in an airtight, waterproof container — and don't forget drinking water. Be sure to include a can opener if including canned food. You can purchase emergency food and water for your pets (from ER Pet, for example) that will last up to 5 years;
Bowls for food and water;
Current photos and physical descriptions of your pets, including details on markings;
Medications, vaccination records and pet first-aid supplies;
Comfort items such as a toy and blanket;
Small garbage bags;
Paper towels and sanitation wipes;
For dogs include: leash, harness and a sturdy carrier large enough to use as a sleeping area;
For cats include: litter and litter box and a sturdy carrier large enough for transport;
Each disaster provides its own unique circumstances, and based on your geographic location, it's important to identify the type of occurrences for which you are most prone. A good first step is preparing the disaster kit and then customizing it to fit the needs of your entire family. Always remember, if it is not safe for you it is not safe for your pet.
Extreme temperature hazards
Now is also a good time to begin considering winter weather emergencies. If faced with power outages, be sure to include additional blankets, safe heating sources and flashlights for your disaster kits.
Keep a small kit in your vehicle if your pets travel with you to ensure that you have provisions for them, as well, should you become stranded. This would include booties to protect paws from frost bite. If you become stranded and your pets are at home, be sure to ask your neighbors or a friend check in on them while you're gone.
During a tornado, put your pet in a carrier or secure him with a leash, and take him with you to a safe area. A hard sturdy carrier is best to protect a pet from any falling debris or if he gets trapped during the storm. Include food and water in the carrier in case you become trapped and need to wait for help to arrive.
When dealing with extreme heat, just like with winter, power outages or air conditioning outages may occur. Prepare your home with plenty of water and fans to keep your pet comfortable. If your home is unbearable, have a list of local hotels that will accept your pets or boarding facilities that can accept pets with limited notice.
When disaster strikes, the same rules that apply to people apply to pets — preparation makes all the difference. Checking your emergency kits on a regular basis is essential. A good rule of thumb is to examine your kits twice a year when daylight savings time begins and ends. Check expiration dates and revisit your checklist. Join The Humane Society of the United States and thousands of pet owners across the country and pledge to take your pets with you when disaster strikes.
For more information on how to prepare for disasters, please visit humanesociety.org/prepare.
Follow all of the Expert Voices issues and debates — and become part of the discussion — on Facebook, Twitter and Google+. The views expressed are those of the author and do not necessarily reflect the views of the publisher. This version of the article was originally published on Live Science.
Stay up to date on the latest science news by signing up for our Essentials newsletter.