Pregnant Women May Lack Info on Household Toxins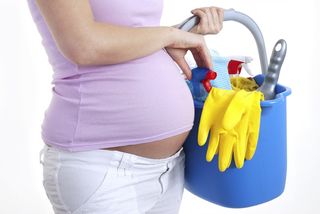 (Image credit: hartphotography/Shutterstock.com)
Pregnant women could be missing out on information about how environmental toxins may affect their unborn babies, new research suggests. A nationwide survey of U.S. obstetricians found that few discussed toxins with their patients in depth, although many considered counseling their patients about environmental health hazards to be important.
"OB/GYN's are very good at talking about tobacco and cigarette exposure, but less commonly discussed are chemicals found in plastic, household cleaning products or flame-retardant chemicals," said Dr. Naomi Stotland, a professor of gynecology at the University of California, San Francisco (UCSF) and a physician at San Francisco General Hospital and Trauma Center.
Women should be aware of the environmental toxins found in households, Stotland said.
For example, chemicals called phthalates are found in air fresheners and dish soap, and have been linked to obesity and birth defects. Bisphenol A (BPA) is found in plastics, and has been linked to heart disease. The researchers noted that a 2011 study of more than 250 pregnant women found that all of them carried environmental chemicals in their bodies that could be passed onto the fetus. [Top 5 Ways to Reduce Toxins in Homes]
In the new study, Stotland and her colleagues surveyed 2,500 obstetricians, finding that 78 percent said they believed counseling their patients about chemicals in the environment could reduce harm to the baby. However, only 50 percent said they asked their patients about their environmental health history, and about 7 percent said they had been trained to take and interpret a patient's environmental health history.
In a focus group with some of the obstetricians, the doctors said they didn't discuss environmental toxins because they felt they didn't have enough knowledge about such chemicals, and didn't want to cause fear or anxiety in their patients. Some physicians also said they wanted to focus on a patient's more-urgent and chronic medical concerns.
Stotland said medical schools should include environmental toxin education in their curricula. But women can also take the initiative for themselves by thinking critically about objects in their environments that may appear harmless, she said.
Household cleaners are one of the main toxins pregnant women can try to avoid, Stotland said. "Many women feel a mistaken belief that you need to use strong chemicals to get your house clean, but that's not backed up by science," she told Live Science. "You can use water and soap, vinegar or baking soda, or lemon juice — these aren't harmful."
Pregnant women can also avoid microwaving their food in plastic containers. Many plastics release toxic chemicals such as vinyl chloride or BPA, according to a document released by UCSF researchers called Toxic Matters.
Other tips for women include eating organic food to avoid the pesticides found in certain fruits and vegetables, as well as using personal care products such as sunscreen or lotion that contain non-toxic ingredients.
But Stotland said there's no need to go overboard about the survey's findings. "I think there is good evidence for there to be reason to be concerned, but I don't want people to be alarmed," she said. "It's about reducing your exposure. Women must remember you can't eliminate your exposure completely, you just reduce it."
Dr. Jeanne Conry, president of the American Congress of Obstetricians and Gynecologists, said she agreed with this stance.
"We need to provide a balance between one of alarm and one of awareness," said Conry, who was not involved in the study. "It is a matter of getting down to the basics: Eat fresh fruits and vegetables as much as possible, [and] wash them thoroughly. Cook, store and heat in containers such as glass, where we are not worried about chemical exposures. Limit exposure to pesticides."
Other women, not just those who are pregnant, need to know about environmental chemicals, too, Conry said. About 50 percent of pregnancies are not planned, "so we need to make sure all women are aware of healthy lifestyle decisions," she said.
Follow Jillian Rose Lim @jillroselim & Google+. Follow us @livescience, Facebook & Google+. Original article on Live Science.
Stay up to date on the latest science news by signing up for our Essentials newsletter.