Vitamin D Deficiency Linked to Higher Risk of Premature Death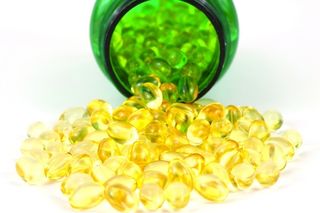 (Image credit: <a href='http://www.shutterstock.com/pic.mhtml?id=51037993'>Vitamins photo</a> via Shutterstock )
People who have severely low blood levels of vitamin D may be twice as likely to die prematurely as people who get enough of the vitamin, according to a new study.
Researchers found that people who had less than 10 nanograms/milliliter of vitamin D in their blood were twice as likely to die over a nine-year period as people who had at least 30 ng/ml of vitamin D.
The finding comes from a new review of 32 previous studies that included analyses of vitamin D blood levels and mortality rates in more than 500,000 people from 14 countries, including the United States. The average age of participants when their blood was drawn and tested for vitamin D levels was 55. The investigators examined the levels of 25-hydroxyvitamin D, the primary form of the vitamin found in blood.
The results suggest that the target level of vitamin D that people should aim for should be raised, study author Cedric Garland, professor in the Department of Family and Preventive Medicine at UC San Diego, told Live Science. The Institute of Medicine (IOM) established 20 ng/ml as the minimum healthy amount of vitamin D three years ago, he said.
That same IOM report suggested that most people in the U.S. get enough vitamin D to meet their needs.
But Garland said the recommendation for that amount was based solely on the association between low vitamin D and the risk of bone disease.
Researchers estimate about two-thirds of people in the U.S. have blood levels of vitamin D below 30 ng/ml, Garland said. The amount of 30 ng/ml of vitamin D that Garland recommends is higher than the 20 ng/ml recommended by the IOM. Garland's recommendation is based on his latest study results showing the association between vitamin D levels and the risk of premature death, whereas the IOM recommendation was based only on the association between vitamin D levels and the risk of bone disease, and did not consider the data that were the focus of the new study.
The higher death risk seen in the people in the study who had inadequate levels of vitamin D was likely related to an association between vitamin D deficiency and the participants' higher risk of cancer and other serious diseases such as diabetes, Garland said. [9 Good Sources of Disease-Fighter Vitamin D]
The main reason for vitamin D deficiency is usually insufficient exposure to sunlight, Garland said, recommending that people spend at least 10 minutes a day exposed to sunlight. Taking supplements can also help people make sure they get enough of the vitamin, he said.
"In general, it is a good study," said Dr. Eric Newman, a resident at Mercy Medical Center in Baltimore, who was not involved in the study.
It is important to "know what your vitamin D level is," Newman told Live Science, recommending that people get tested for vitamin D.
"Vitamin D is important in so many aspects," including cancer prevention and overall well-being, he added, pointing to salmon, sardines and egg yolks as good nutritional sources of vitamin D.
However, "it is difficult to get the amount [of vitamin D] you need entirely through diet," he said, adding that adequate exposure to the sun is still the best way to get enough of the vitamin.
In previous studies, the issue of whether most people get enough vitamin D has been debated. A 2012 study found that not only were low levels of vitamin D linked with greater mortality rates, but also that very high levels were linked with an increased risk of death.
The study was published today (June 12) in the American Journal of Public Health.
Follow Agata Blaszczak-Boxe on Twitter. Follow LiveScience @livescience, Facebook & Google+. Originally published on Live Science.
Stay up to date on the latest science news by signing up for our Essentials newsletter.