Bees Trained as Bomb Sniffers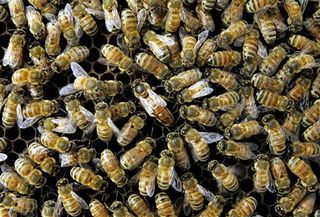 (Image credit: Haraz N. Ghanbari/AP)
Inscentinel Ltd. has found a way to use honeybees as detectors in bomb-sniffing machines. The bees are first trained and then literally harnessed into a special cassette to aid in the process of biochemical molecular recognition.
Honeybees are trained to recognize particular odors (for example, minute traces of explosive compounds), and then to associate that smell with a food reward. Bees are able to recognize odors that are as faint as only a few parts per trillion in an air sample. When the bees detect the special odor, they extend their proboscis in expectation of receiving food.
Trained bees are then carefully strapped into a cartridge. A sample of air is introduced into their little chamber.
A digital camera watches the bees carefully; if the bees detect a trace of the odor that they have been trained to recognize, image recognition software will see the bees extend their proboscis in the camera image. The machine then reports a "positive" finding of that chemical substance to the human operator.
Once the bees have finished their "shift," they are returned to their hive. The company prides itself on keeping its bees happy and healthy.
Researchers seem to be finding more and more reasons to partner with insects. Roboticist Garnet Hertz created a robot that was actually controlled by a Madagascar hissing cockroach (see the Cockroach-Controlled Mobile Robot). Honeybees may someday be used to provide positive ID for people (see Honey Bees Can Recognize You!)
Scientists are also carefully studying insect behavior to get hints on how to better construct cooperative robots (see Bees Key To Cooperative Robots). Researchers have actually built tiny robots to socialize with cockroaches and learn their behaviors (see Insbot Robot Cockroaches Make Friends And Influence... Roaches).
Via Gizmodo.
(This Science Fiction in the News story used with permission of Technovelgy.com - where science meets fiction.)
Stay up to date on the latest science news by signing up for our Essentials newsletter.
Bill Christensen catalogues the inventions, technology and ideas of science fiction writers at his website, Technovelgy. He is a contributor to Live Science.