If Aired, Tobacco Truths Would Help Smokers Quit, Study Finds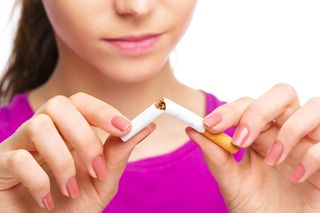 (Image credit: <a href='http://www.shutterstock.com/pic.mhtml?id=157116989&src=id'>Quitting smoking photo</a> via Shutterstock)
Truthful statements about the health effects of cigarette smoking may come as a surprise to many smokers, a new study suggests.
Smokers in the study were presented with statements about the dangers of smoking that a federal judge in 2006 ordered to be placed on cigarette packaging and ads, but which the tobacco industry is appealing. The statements include information such as how the tobacco industry deliberately pumps in more nicotine to make tobacco more addictive. More than a third of the smokers said that the information was new to them.
Some were so angered by the statements that they said they were motivated to quit, the study found.
The study appears in the current issue of the American Journal of Preventive Medicine, and was led by Dr. James Hardin of the Arnold School of Public Health at the University of South Carolina, Columbia. [Kick the Habit: 10 Scientific Quit-Smoking Tips]
No truth in advertising
The statements that the researchers presented to the study participants have a rich history. In 2006, Senior Judge Gladys Kessler of the U.S. District Court in Washington, D.C., ordered the tobacco industry to disseminate "corrective statements" concerning its long-standing deceptions on five topics: smoker health effects, nonsmoker health effects, cigarette addictiveness, the design of cigarettes to increase addiction and the relative safety of light cigarettes.
The ruling is currently under appeal. The statements were intended to appear as inserts on cigarette packs, at points of sale where cigarettes are sold, in newspapers, on the radio and on TV, said Dr. James Thrasher, a co-author on the study report, also at the Arnold School of Public Health.
Hardin, Thrasher and their colleagues decided to test what effects reading the suppressed statements would have on an average group of smokers. Between a third and a half of the smokers said that the messages were new and surprising. Compared with non-Hispanic whites, African-Americans and Latinos were more likely to find the messages novel, to be angry at the industry for deceiving them and to be more likely to quit.
"Many smokers are still unaware of tobacco industry lies," Thrasher said.
What big tobacco doesn't want you reading
The federally mandated corrective statements include the following:
* "Cigarette companies intentionally designed cigarettes with enough nicotine to create and sustain addiction."
* "Cigarette companies control the impact and delivery of nicotine in many ways, including designing filters and selecting cigarette paper to maximize the ingestion of nicotine, adding ammonia to make the cigarette taste less harsh, and controlling the physical and chemical make-up of the tobacco blend."
* "'Low tar' and filtered cigarette smokers inhale essentially the same amount of tar and nicotine as they would from regular cigarettes."
* "More people die every year from smoking than from murder, AIDS, suicide, drugs, car crashes, and alcohol, combined."
"The message that most angered smokers was that the industry designed cigarettes to make them more addictive," Thrasher said.
Although federal laws greatly limit how and where cigarette manufacturers can advertise their products, the industry still seems to manage to convey a feeling of lightness and youthful vitality.
"The industry is increasingly using colors on packages, particularly contrasting colors within brand families, in order to convey without words the same deceitful concepts of relatively less harm from consuming some cigarette brand varieties compared to others," Thrasher told Live Science. "They have said as much in their internal documents for many years."
The tobacco industry also is appealing the FDA's mandate to display more of the graphic warnings on cigarette packs sold in the United States that are seen in other countries. Cigarettes sold in Canada have warnings with pictures illustrating the consequences of smoking, which cover 75 percent of the front and back of the pack. In Australia, pictorial warnings cover 75 percent of the front and 90 percent of the back.
A study published in 2012 in the journal Nicotine & Tobacco Research found that the graphic warnings in Canada led to a significant increase in smokers quitting and others not taking up the habit.
Should corrective statements one day be "widely disseminated and highly visible, they will serve a key public education function … [and] may have a role in preventing youth from initiating smoking and increasing cessation among adults," said Dr. Andrea Villanti of the American Legacy Foundation (ALF), who was not part of the study.
The ALF is a nonprofit, anti-smoking research organization based in Washington, D.C., best known for "The Truth" health campaign, which is aimed at teenagers.
Follow Christopher Wanjek @wanjekfor daily tweets on health and science with a humorous edge. Wanjek is the author of "Food at Work" and "Bad Medicine." His column, Bad Medicine, appears regularly on LiveScience.
Stay up to date on the latest science news by signing up for our Essentials newsletter.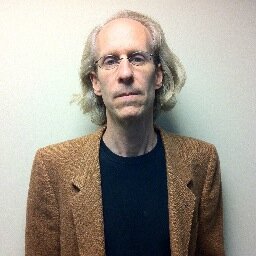 Christopher Wanjek is a Live Science contributor and a health and science writer. He is the author of three science books: Spacefarers (2020), Food at Work (2005) and Bad Medicine (2003). His "Food at Work" book and project, concerning workers' health, safety and productivity, was commissioned by the U.N.'s International Labor Organization. For Live Science, Christopher covers public health, nutrition and biology, and he has written extensively for The Washington Post and Sky & Telescope among others, as well as for the NASA Goddard Space Flight Center, where he was a senior writer. Christopher holds a Master of Health degree from Harvard School of Public Health and a degree in journalism from Temple University.