Finally, A Subway Grip Clean Enough To Lick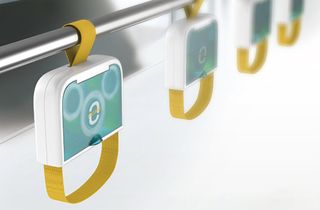 (Image credit: Li Jiyang, Liu Tao, Qiu Zhen, Zeng Jiayu and Zhou Shen via <a href="http://www.red-dot.sg/en/online-exhibition/concept/?code=898&y=2013&c=1&a=0" target="_blank">Red Dot Design Award</a>.)
The rails on buses and subway trains are usually germ fests, but a new handle design could make them clean no matter who — or what — is grabbing hold.
Hacking Bacteria To Do Our Bidding: Photos
A team of designers came up with a strap concept they're calling Cyclean. These public transportation handles are a bit like mini versions of those rotating cloth towel machines, except they actually disinfect the strap as it goes around. Hat tip to Inhabitat's Beth Buczynski.
According to the designers, pulling the Cyclean strap rotates it through a small plastic chamber that contains a rough sponge, a cleaning and disinfecting agent and rollers. The sponges would be replaceable and the disinfectant refillable. Designers Li Jiyang, Liu Tao, Qiu Zhen, Zeng Jiayu and Zhou Shen won a Red Dot Award for their concept.
Freaky Clean: Mini Robots Scrub Your House
My biggest problem with public transportation straps — and rails — isn't whatever lurks on them. I view riding public transportation in cities as a form of inoculation. My frustration is being too short. If Cyclean straps could be pulled both around and down to accommodate the vertically challenged, that would be a real relief.
This story was provided by Discovery News.
Stay up to date on the latest science news by signing up for our Essentials newsletter.