The Truth Behind Baseball's Hitting Slump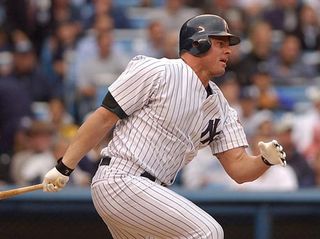 Major League Baseball had a serious hitting bubble in the late 1990s, as any fan probably knows, but what caused it has been an ongoing controversy that smells of steroids.
Players had a collective batting average in the late '90s of .269, about 10 points higher than an earlier era from 1969 to 1973, according to figures collected by two University of Nebraska-Lincoln sports historians.
Afterwards, from 2001 to 2006, the aggregate MLB batting average dropped to .265. Runs per game follows the same pattern, the historians state in a new report.
Bursting the bubble
Benjamin G. Rader and Kenneth J. Winkle wanted to understand the hitting trends for the 1969 to 2006 seasons. The era following 1994–2000, which they call Baseball's Great Hitting Barrage of the 90s, has been the puzzling one. What cooled down the wild hitting bubble, with its home-run rallies and record-breaking performances?
Was it drugs that pumped up those figures and then drug testing, which began in 2003 (although anxiety, trial tests and awareness of being caught started years earlier) that brought them back down a bit? Some have concluded this from many reports, including Ken Caminiti's confession in 2002 to Sports Illustrated that he used steroids in the mid-90s and stated that it was "no secret" that at least half of all players were using steroids.
Numerous other players testified in more recent years that they used either steroids or human growth hormone, or they were implicated. And more were caught in various drug screening programs.
Actually, the historians say, it is umps that have brought the Giambis and Sheffields of Major League Baseball back under control more than drug bans and testing.
Bans and testing for steroids and other performance-enhancing drugs have played a big role in lowering batting statistics, but the bigger factor is that league officials have pushed umpires to expand the strike zone, making it harder for hitters to connect. That's what a statistical analysis shows, anyway, but the analysis has shortcomings, most notably that it's not possible to know who used drugs or when they started and stopped.
Expanding strike zone
In an earlier study that looked at offensive stats through 2002, Rader and Winkle thought it might be tightly wound balls that fly faster off bats, the belief that ballparks were smaller or the added teams (league expansion) that diluted the quality of pitching. Maybe it was lighter bats, stronger hitters or a new style of hitting that yielded more hits.
Their latest research showed that the strike zone factor had the strongest correlation with the change in offensive statistics, including aggregate major league batting average, runs per game, home runs per game and on-base percentage plus slugging percentage.
The strike zone effectively grew because in 2001, MLB official Sandy Alderson tried to retrain umpires before the start of spring training by having them call pitches with minor league batters standing at the plate with white strips taped across their chests, marking where the rule book said the top of the strike zone should end.
Alderson also instituted that year the use of a much-loathed pitch-tracking technology in selected parks during the regular season. If the calls of home plate umps failed to match those of the camera and computer tracking machine more than one in every 10 pitches, umps' jobs could be in jeopardy, it was rumored.
In any case, starting in 2001, umpires began calling a bigger strike zone, according to Rader and Winkle's report, presented at the annual Spring Training Conference on the Historical and Sociological Impact of Baseball in March in Tucson.
And that is the primary factor in pushing back offensive numbers, Rader said.
Slippery steroids factor
The steroids factor, or at least the sudden bulkiness of players as expressed in a height-weight ratio, is also strongly correlated with the rise and fall of offensive stats across the more than three decades studied, though less so than the strike zone change, said Rader, a Missouri native and St. Louis Cardinals fan.
"The most interesting thing is we correlated weight gain with offensive output, and hitters gained in weight steadily through the 2000 season," Rader said. "Then they began to lose weight and this corresponds strongly with the offensive revolution."
But it's hard to make an iron-clad statistical case that performance-enhancing drugs are the primary factor in dictating the aggregate league batting stats, Rader said.
"The strike zone is easy to match up against offensive output, because you have year-to-year statistics," Rader told LiveScience. "But with drug use, you can't be absolutely clear how many people are on drugs, when they started taking drugs, when they might go off of drugs."
Video: How to Throw a Split-Finger Fastball
Stay up to date on the latest science news by signing up for our Essentials newsletter.
Robin Lloyd was a senior editor at Space.com and Live Science from 2007 to 2009. She holds a B.A. degree in sociology from Smith College and a Ph.D. and M.A. degree in sociology from the University of California at Santa Barbara. She is currently a freelance science writer based in New York City and a contributing editor at Scientific American, as well as an adjunct professor at New York University's Science, Health and Environmental Reporting Program.