Bio-Shirt Monitors Athletes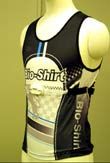 Bio-Shirts, developed by Korea's state-backed Electronics and Telecommunications Research Institute, were introduced last week at the National Sports Festival. The shirts are designed to monitor various physiological parameters so elite athletes don't push themselves too hard. Several sprinters tried out the Bio-Shirts.
The Bio-Shirt has two parts; a specially designed lightweight shirt and a monitoring system that weighs just 20 grams including the battery. The battery life will be prolonged to cover the average running time of amateur marathon runners—about five hours.
The shirt can also be used as a non-invasive ambulatory monitoring system for medical patients.
The Bio-Shirt is in part the realization of the heartshirt, one of science fiction writer Rudy Rucker's ideas from his 1988 novel "Wetware":
Here are links to some similar real-life inventions:
Reference story Athletes to Wear Smart Bio-Shirts via MedGadget.
(This Science Fiction in the News story used with permission from Technovelgy.com —where science meets fiction.)
Stay up to date on the latest science news by signing up for our Essentials newsletter.
Bill Christensen catalogues the inventions, technology and ideas of science fiction writers at his website, Technovelgy. He is a contributor to Live Science.