China's 'Airpocalypse' Tracked by NASA Satellite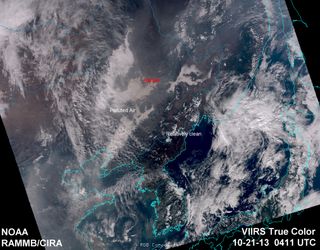 (Image credit: NOAA/NASA)
It's fair to say that China isn't exactly known for good air quality. But a recent spate of air pollution in northern China that nearly shut down a city of 11 million has put a spotlight on the problem, as well as China's reliance on coal, which provides 70 percent of its energy and is a big contributor to the country's pollution woes.
In mid-October, cold weather in northern China led officials and citizens to turn up their coal-powered heating systems in the city of Harbin. At the same time, at the end of harvest season, farmers burned tons of agricultural waste and crop stubble throughout the countryside, fires that were visualized as red dots in an image captured by NASA's Aqua satellite.
This resulted in an "epidemic" of smog and smoke (termed the "airpocalypse" by some) that limited visibility to less than 10 meters (about 30 feet) and led buses and drivers to get lost on roads, according to news reports. It also preceded two large pileups on local highways, according to the online news site Quartz. The Air Quality Index in Harbin also rose to its maximum possible measurement multiple times, NASA reported. Levels of particulates, small particles that are harmful to human health, also rose to concentrations 40 times higher than those thought to be healthy, as determined by the World Health Organization.
All of this air pollution was tracked by Aqua, which can measure levels of pollutant particles in the atmosphere by how much light they reflect. The Aqua images show the plumes of smoke moving toward Harbin in mid-October, while hitting other cities in northeastern China, such as the capital, Beijing.
Heating is a problem in northern Chinese cities like Harbin, where temperatures can drop to minus 44 degrees Fahrenheit (minus 42 degrees Celsius) by January, according to Quartz. A study published in May found that particulate matter north of China's Huai River is 55 percent higher than in the south, and life expectancies are 5.5 years shorter, due in large part to the health effects of air pollution from coal-fired power plants, Quartz reported.
Email Douglas Main or follow him on Twitter or Google+. Follow us @livescience, Facebook or Google+. Article originally on LiveScience.
Stay up to date on the latest science news by signing up for our Essentials newsletter.
Douglas Main loves the weird and wonderful world of science, digging into amazing Planet Earth discoveries and wacky animal findings (from marsupials mating themselves to death to zombie worms to tear-drinking butterflies) for Live Science. Follow Doug on Google+.