Girls Gone Bad: Statistics Distort the Truth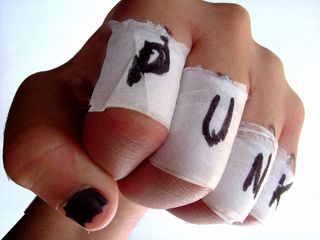 Recent trends have suggested that girls are rapidly becoming more violent while the bad behavior of boys has not changed much. But the numbers are deceiving, some researchers say.
The FBI's Uniform Crime Reports (UCR) shows arrests of juvenile females for assaults and violent crime from 1980 through 2003 rose from 20 percent to more than 30 percent of the total.
The media have latched onto the statistic with glaring headlines. A book released in February carries the catchy title "See Jane Hit" and offers tips on how to deal with violent girls. An article last year in the Boston Globe was headlined "Violence raging among teen girls." Newsweek called the phenomenon "Bad Girls Go Wild."
The real change is in how police and society deal with acts that used to be viewed as relatively minor, says Darrell Steffensmeier, a professor of sociology and criminology at Penn State.
"Other national sources of information on youth violence do not support [the UCR] increase," Steffensmeier said today. "Several changes in violence prevention policies by police or at schools have widened the net, boosting the arrests of girls."
Reality check
In a new study, Steffensmeier and colleagues reviewed data from 1980 to 2003 from the Monitoring the Future and National Youth Risk Behavior Surveys and the National Crime Victimization Survey, in which the victim identifies the perpetrator's gender. Girls accounted for 20 percent of the crimes in 1980 and 19 percent in 2003.
The surveys involved national samples from the youth population and are independent of criminal justice biases, the researchers note.
"Some commentators have blamed the perceived change on greater stress in girls' lives, more cultural promotion of girls' aggression and breakdowns in family, church, community and schools," Steffensmeier said. "But today, police are more prone to arrest girls because of a crackdown on less serious forms of 'violent' crime that is seen as a way of warding off their escalation into more serious violence"
Arrest that girl!
Steffensmeier presented the research last week at a conference of the Pennsylvania Association of Criminal Justice Educators.
He argues that parents, social workers, school officials and police are all pushing for more arrests and litigation rather than deal informally with aggressive behavior by girls.
"Girls are more likely to be arrested today than yesteryear for fighting with their parents or stepparents, teachers or other supervisors, and with other girls," he said. "Police files show that actions such as a girl throwing a dish at her mother or pouring a carton of chocolate milk on a girl at school for 'talking about her,' now result in arrests."
The media is also paying more attention to violence by girls, he said.
"It is important to realize that girls' arrests for homicide, robbery, and rape/sexual assault have not been rising and that there is little change in the gender gap," Steffensmeier said. "It is only girls' arrests for assault that have been rising."
Others agree
A 2004 report by the National Resource Center on Domestic Violence found similar evidence that the increase in arrests of girls for violent behavior is not simply due to girls going bad.
That report was led by Meda Chesney-Lind of University of Hawaii at Manoa. It cites among others a study by the Centers for Disease Control and Prevention, which found that while 34.4 percent of girls surveyed in 1991 said they had been in a physical fight in the last year, by 2001 that figure had dropped to 23.9 percent.
Chesney-Lind concluded there are three things contributing to the rise in arrests for girls for violent crimes:
Relabeling of behavior as criminal, which sometimes means girls involved in scuffles with family members are arrested for assault.
Rediscovery of girls' violence by media and policy makers.
Zero tolerance policies that have the effect of increasing the severity of criminal penalties associated with particular offenses.
"Careful analysis of trends in girls' violence, then fails to confirm that we face a dramatic increase in this troubling behavior," Meda Chesney-Lind said.
Stay up to date on the latest science news by signing up for our Essentials newsletter.
Robert is an independent health and science journalist and writer based in Phoenix, Arizona. He is a former editor-in-chief of Live Science with over 20 years of experience as a reporter and editor. He has worked on websites such as Space.com and Tom's Guide, and is a contributor on Medium, covering how we age and how to optimize the mind and body through time. He has a journalism degree from Humboldt State University in California.