Catastrophe's Uncertain Death Toll Over 100,000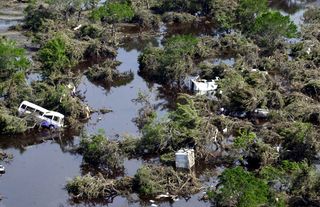 At least 121,519 people are reported dead around southern Asia and as far away as Somalia on Africa's eastern coast, most killed by massive tsunamis that smashed coastlines after a magnitude 9.0 earthquake off Indonesia's coast on Sunday.
But officials say the estimates of those killed are very uncertain.
"It is very difficult to predict the final toll,'' said Dody Budiatman, coordinator of relief efforts for the government in Jakarta. "We could search in small boats, but considering the numbers it would be very difficult.''
Officials have even admitted they aren't sure how many corpses they've buried. One way to estimate the total has been to take the number of bodies in one mass grave and multiply it by the number of graves. In other cases, they estimate the population of a village, count the survivors and assume the rest have been killed.
Death tolls by country, as of Friday:
Indonesia: 80,246.
Sri Lanka: 28,508.
India: 7,763
Thailand: 4,560
Somalia: 200.
Myanmar: 90.
Maldives: 73.
Malaysia: 66.
Tanzania: 10.
Bangladesh: 2.
Kenya: 1.
Tsunami are sometimes called tidal waves. They are more like tidal surges, and they soar upon reaching land.
Related Tsunami Articles
Related Earthquake Articles
Stay up to date on the latest science news by signing up for our Essentials newsletter.