Robot Border Patrol on Point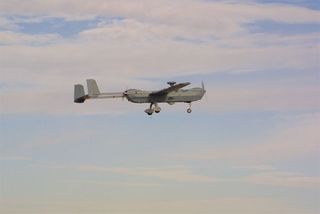 (Image credit: Northrop Grumman)
Unmanned Aerial Vehicles are best known for their use in wartime situations. But now UAVs are finding a high-altitude niche flying sentry over the U.S.-Mexico border in the hopes of stemming the tide of illegal border crossings from Mexico.
Starting this month into January -- as part of the new Arizona Border Control -- two U.S. Army RQ-5 Hunter UAVs equipped with electro optical infrared sensors are making reconnaissance flights along the Arizona border area 90 miles southeast of Tucson.
"Unmanned aerial vehicles provide unparalleled surveillance capabilities that not only cause greater levels of apprehension among potential terrorists, but also provide safer working conditions for Border Patrol agents who risk their lives on a daily basis," said David Zolet, vice president, Homeland Security, of the Northrop Grumman Corporation.
The Hunter is just one of several UAVs in Northrop Grumman's portfolio of unmanned systems that could support the Arizona Border Control's surveillance and reconnaissance requirements.
UAVs are capable of sustained autonomous flight. They are equipped with high resolution day and night time visual and infrared sensors, integrated Global Positioning System satellite location systems, and can relay communication signals to border patrol agents.
Individuals on the ground may be unaware of law enforcement via UAVs due to their low visual profile at altitude and quiet engine.
The Border Patrol is now part of U.S. Customs and Border Protection within the Department of Homeland Security.
Stay up to date on the latest science news by signing up for our Essentials newsletter.