Healthier Ways to Enjoy Chocolate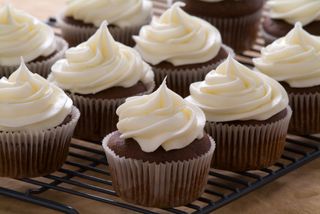 (Image credit: <a href='http://www.shutterstock.com/pic.mhtml?id=97186658'>Cupcake photo</a> via Shutterstock)
In my household, I'm the "resident chocoholic," and while every new study that shows a benefit to eating chocolate warms my heart (and warms-up my taste buds), over the years, I've had to learn how to consume responsibly, because a chocolate addiction can wreak havoc on your waistline.
Or, so I've been told. A new study suggests that the opposite may be true.
This study from the March issue of Archives of Internal Medicine study suggests that people who regularly eat chocolate may actually be thinner than those who don't.
The findings are based on questionnaire answers from over 1,000 men and women. Those who admitted to eating chocolate at least five times per week had a lower body mass index (BMI) on average. BMI is a calculation used to determine someone's weight class (underweight, normal weight, overweight or obese) while adjusting for their height.
Although the study is interesting, it doesn't give us a free pass to eat as much chocolate as we'd like. The results might just show that people who allow themselves to indulge in a little chocolate are more likely to stick to their diets otherwise. But, there's also a piece of this puzzle that is glaringly absent. The study didn't indicate the type of chocolate that participants enjoyed regularly.
You see, the actual chocolate of your chocolate bar is actually quite good for you. It comes from one of nature's best super foods: the cacao bean. In its raw form, chocolate is just bursting with antioxidants, flavonoids, catechins and many other body and brain-enhancing components.
But, when you read the other ingredients on the label of your chocolate treat, you'll find sweeteners and preservatives.
If you've ever done a taste test, you know that there's a big difference between a sweet milk chocolate bar, and one made of 70 or 80 percent cacao. The latter can be quite bitter. So, how do we get more of the good stuff without getting too much of that bitter taste? The answer may be found in the baking section of your supermarket. Start with unsweetened cocoa powder (raw, powdered chocolate) and add your own natural sweeteners. This way, you'll have a natural treat that isn't overly sweet or filled with preservatives.
Here are a few ideas for creating treats with cocoa powder:
Make your own hot cocoa with cocoa powder, milk and just a little of your favorite natural sweetener.
Sprinkle a tablespoon of cocoa powder in cold or warm breakfast cereal. It adds a chocolate-y taste, but the bitterness is overpowered by the other ingredients.
Combine cacao powder and brown rice syrup (or molasses) and use as a fondue-like dip for sliced fruit.
Healthy Bites appears on MyHealthNewsDaily on Wednesdays. Deborah Herlax Enos is a certified nutritionist and a health coach and weight loss expert in the Seattle area with more than 20 years of experience. Read more tips on her blog, Health in a Hurry!
Stay up to date on the latest science news by signing up for our Essentials newsletter.
Deborah Enos, CN, also known as "The One-Minute Wellness Coach," is The Health Coach for busy, working people. She pares her good-health messages down to simple and fast bullet points that can impact lives in 60 seconds or less. Deborah serves as a board member of the American Heart Association. In addition to writing the Healthy Bites column for Live Science, Deborah is a regular on FOX Business News, NBC and ABC, and is a frequent contributor to The Costco Connection, Parade Magazine, Self Magazine, Good Housekeeping and USA Today. Deborah is also The One Minute Wellness Coach for The Doctors TV Show.