Antibiotic-Resistant Bacteria Raises Risk of Flu Death in Children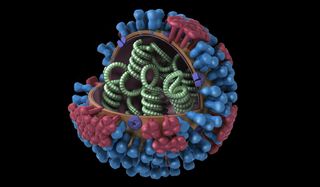 (Image credit: CDC)
Healthy children infected with the H1N1 influenza virus during the 2009 pandemic were more likely to die if they were also infected with antibiotic-resistant bacteria, according to a new study.
The risk of dying increased eightfold for otherwise healthy children who had both H1N1 and methicillin-resistant Staphylococcus aureus (MRSA), compared with kids who not also infected with the bacteria, researchers found. Moreover, the antibiotic vancomycin, commonly used to treat MRSA, was unable to save these children.
The strength of the link between MRSA and dying from the flu came as a surprise to pediatric infectious disease specialists. "The degree of illness was so extreme that we weren't able to save many of these children," said study author Dr. Adrienne Randolph, a pediatric critical care specialist at Children's Hospital Boston. "Even the ones that did survive lost a lot of their lung function. It is very concerning."
The study was published on Nov. 7 in the journal Pediatrics.
Tracking flu deaths
The Centers for Disease Control and Prevention (CDC) has been tracking children's deaths from influenza since 2003, when the U.S. had a particularly heavy flu season, said study researcher Dr. Tim Uyeki, an epidemiologist at the CDC. In 2008, the agency noted an approximately fivefold increase in MRSA-related flu deaths.
The new study included 838 children who were critically ill from H1N1 infections; most had chronic diseases or other factors that might have compromised their health. Seventy-five children in the study died.
Of the 251 otherwise healthy children, 18 died, and six of these children had MRSA.
"It's very uncommon in the U.S. to lose healthy kids to viral diseases," Randolph said. "Many had a necrotizing pneumonia, or a flesh-eating type of infection that eats away at the lung."
Typically, kids with chronic diseases have higher mortality rates from the flu than those who are otherwise healthy, but the researchers found that healthy kids with MRSA had an almost equal risk of dying as chronically ill kids, according to Randolph.
Vancomycin was given to five of the six healthy children who died; their deaths are partly a consequence of MRSA's continuous evolution , according to Randolph.
"In part, MRSA infections in children are rising because people are using antibiotics when they are not [needed]," Randolph said. "It's very important that we don't overuse [antibiotics] because that drives these resistant organisms.
The importance of vaccinations
The study "definitively emphasized MRSA as a risk factor associated with influenza mortality," said Dr. Janet Englund, a pediatric infectious disease specialist at the Seattle Children's Hospital who was not involved with the research.
"This data lends us more ammunition when we discuss the importance of vaccination with families and healthcare policy makers," Englund said.
Indeed, the best way to protect children from critical complications is to vaccinate them against the flu , Uyeki said. "We have a record amount of influenza vaccine available in the U.S. right now," he said. He recommended everyone over the age of six months be vaccinated as soon as possible.
Randolph said her team is now researching better strategies to treat children with bacterial and flu co-infections.
Randolph said, "The main message is to get vaccinated. That's the only thing parents can really do."
Pass it on: Vaccinate your kids against the flu because rising MRSA infections can increase even healthy kids' risk of death by flu.
Follow MyHealthNewsDaily on Twitter @MyHealth_MHND. Find us on Facebook.
Stay up to date on the latest science news by signing up for our Essentials newsletter.