Caesarean Section Rates Hit All-Time High, Study Shows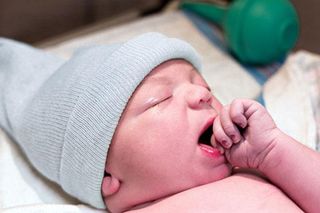 Rates of Caesarean section deliveries in the United States climbed to 34 percent in 2009, hitting an all time high, a new study says.
Florida, New Jersey and Texas had the highest rates, while Utah, Wisconsin and Colorado had the lowest of the 19 states included in the study.
"Obviously, a 34 percent C-section rate is far too high," said Jacqueline Wolf, a researcher at Ohio University who wasn't involved in the study. "Medical reasons alone cannot possibly explain why more than one in three American women need major abdominal surgery in order to safely give birth."
A C?section (caesarean section) is necessary to remove the baby from the uterus when a vaginal delivery could risk the health of the mother or the baby, or when a prior C?section makes vaginal delivery difficult or dangerous.
"In many cases of C?section in recent years, the benefits may be questionable and important healthcare organizations, including the Joint Commission and the Agency for Healthcare Research and Quality, have endorsed safely reducing C?sections rates in certain types of pregnancies," wrote the study researchers.
The new study was performed by HealthGrades, a company whose website allows patients to search for and rate physicians.
Rising rates
The researchers examined C-section rate from 2002 through 2009 in the 19 states with publicly available health data. The rate increased from 27 percent to 34 percent during that time. Separate studies by the Centers for Disease Control and Prevention found the national rate to be 32 percent in 2007.
Of the 19 states studied, Florida, New Jersey and Texas had the highest percentages of C?sections (38.6 percent, 38 percent and 35.9 percent, respectively). States with the lowest rates of C?section deliveries were Utah, Wisconsin and Colorado (22.4 percent, 25.1 percent and 27.3 percent, respectively).
Risky surgery
Groups such as the World Health Organization have suggested that the Caesarean rate should be 15 percent. The Joint Commission, a non-profit that accredits and certifies health care organizations, noted in their standards of care manual on C-sections that "there are no data that higher rates improve any outcomes, yet the C?section rates continue to rise."
National C-section rates are on the rise for many reasons , according to the new study. Some factors include common practices such as labor induction and epidural use, which can lead to complications that in turn, can lead to C-sections. Factors that lead to risky deliveries in general including obesity, diabetes, multiple babies and increased age are also on the rise.
Some mothers and physicians opt for C-sections just so the timing of the birth is convenient for one or both, the study said.
The rising rate isn't without risk. "Although C?sections are generally considered safe, it is important to understand that a C-section is still a major surgical procedure that includes serious risks to mothers and babies," the study authors wrote.
Pass it on: C-section rates continue to climb, and many may be unnecessary.
You can follow LiveScience staff writer Jennifer Welsh on Twitter @microbelover. Follow MyHealthNewsDaily on Twitter @MyHealth_MHND and find us on Facebook.
Stay up to date on the latest science news by signing up for our Essentials newsletter.
Jennifer Welsh is a Connecticut-based science writer and editor and a regular contributor to Live Science. She also has several years of bench work in cancer research and anti-viral drug discovery under her belt. She has previously written for Science News, VerywellHealth, The Scientist, Discover Magazine, WIRED Science, and Business Insider.