As Women's Depression Drops, So Does the Excess Weight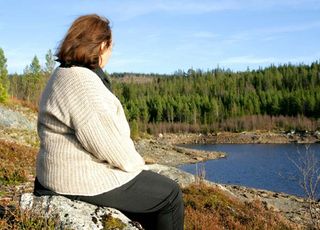 (Image credit: Dreamstime)
Treating obese women's depression may help them lose weight, a new study suggests.
Although researchers couldn't determine which condition may cause the other, obesity and depression frequently strike together. Obese women who saw their depression lessened in a treatment program also lost more weight than women whose depression didn't improve or worsened, researchers said.
"I expect that the relationship between depression and physical activity goes in both directions," said study researcher Dr. Gregory Simon, a senior investigator and psychiatrist at Group Health Research Institute in Seattle. "Increased physical activity leads to improvement in depression, and improvement in depression leads to increased physical activity."
The researchers evaluated 203 women, ages 40 to 65, who had an average body mass index of 38.3 at the study's start, and found that obesity increased a woman's risk of depression by 50 percent to 150 percent.
"We're just observing," Simon told MyHealthNewsDaily. "You can't prove which came first." (Body mass index is a measurement of body fat based on height and weight. People with BMIs of 30 or higher are considered obese.)
Participants were then split into two groups: one focused only on helping the women lose weight , and the other also treating the women's depression. The researchers held 26 group treatment sessions over 12 months, and checked in on the women six, 12 and 24 months after the study began.
Of those whose depression had loosened its grip — as measured by a small drop on a test called the Hopkins Symptom Checklist depression score — 38 percent had lost at least 5 percent of their body weight. Of those whose depression scores stayed the same or increased, 21 percent lost that much weight.
While the study's purpose wasn't to make recommendations about exercise , Simon said, it's advisable for people suffering from depression to seek more opportunities for physical activity.
"There certainly is evidence that exercise alone is an effective treatment for depression , whether you're overweight or obese or not, or even if you're a normal weight," he said.
The study was unusual because it focused on the sometimes-overlooked link between depression and obesity, without focusing solely on the role of weight loss, said Robert E. Thayer, a psychology professor at California State University in Long Beach who has researched how people regulate their moods with food and exercise.
"These findings suggest that, like other negative moods that motivate eating as a kind of self-medication, depression is no exception," said Thayer, who was not involved with the study. "It's a useful addition to the scientific literature."
Simon said future studies could focus on learning which antidepressants — many of which can bring on weight gain as a side effect — contribute most to that situation.
"Losing weight can certainly have a positive effect on people's moods," he said.
The research was published in the November/December issue of the journal General Hospital Psychiatry.
Pass it on: Women whose depression is lessened with treatment may find it easier to lose weight.
Follow MyHealthNewsDaily on Twitter @MyHealth_MHND.
Stay up to date on the latest science news by signing up for our Essentials newsletter.