Ancient 'Jin Shin' Acupressure Technique Seems to Work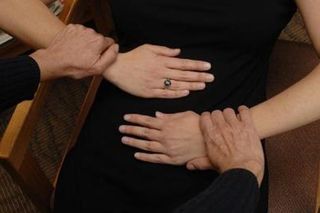 (Image credit: Photo by Casey A. Cass/University of Colorado)
Western doctors are generally skeptical of ancient Eastern therapeutic practices, which often get lumped together in a fringe category called "alternative medicine." And indeed, research on the health benefits of many alternative medicinal techniques is inconclusive - acupuncture , for example, often fails to outperform a placebo .
But a new, cleverly controlled study shows that Jin Shin, an ancient therapy also known as acupressure, seems to work. The technique enhances cognitive function in patients who have suffered traumatic brain injury (TBI).
For their study, which was published Jan. 11 in the peer-reviewed Journal of Neurotrauma, researchers at the University of Colorado at Boulder worked with 38 subjects who had suffered mild TBIs. Half of the subjects were treated with standard acupressure therapy by trained experts, while the other half - the control group - received pressure treatments from the same experts, but on places on the body not considered to be acupressure points. The subjects were not told which group they fell into.
Fixing the Flow
Jin Shin practitioners believe acupressure points are found along "meridians" - energy pathways that run through the body. According to Theresa Hernandez, lead author of the study, each point is believed to be connected to the health of a specific body organ, as well as the entire body and brain.
"Think of the meridians as freeways and the pressure points as towns along the way," she said. "When there is a traffic jam in Denver that causes adverse effects as far away as Boulder, clearing the energy blocks, or in this case traffic jams, helps improve flow and overall health," Hernandez told the press.
Several neuropsychological tests were performed on the study subjects to assess the results, such as memory exercises in which study subjects were asked to repeat strings of numbers after hearing them, to see how many they could recall. Subjects receiving active acupressure treatments could recall significantly longer strings of numbers than those in the control group.
Active acupressure recipients also performed better on a test designed to measure how quickly their brains responded to stimuli when faced with tasks viewed on a computer screen, as determined by brain scans.
"We would like to see if the Jin Shin treatment is useful to military veterans returning home with traumatic brain injury, a signature wound prevalent in the wars in Iraq and Afghanistan," said Hernandez.
Got a question? Send us an emailThis e-mail address is being protected from spambots. You need JavaScript enabled to view it This e-mail address is being protected from spambots. You need JavaScript enabled to view it This e-mail address is being protected from spambots. You need JavaScript enabled to view it This e-mail address is being protected from spambots. You need JavaScript enabled to view it This e-mail address is being protected from spambots. You need JavaScript enabled to view it This e-mail address is being protected from spambots. You need JavaScript enabled to view it This e-mail address is being protected from spambots. You need JavaScript enabled to view it This e-mail address is being protected from spambots. You need JavaScript enabled to view it and we'll crack itThis e-mail address is being protected from spambots. You need JavaScript enabled to view it . Follow Natalie Wolchover on Twitter @nattyover
Stay up to date on the latest science news by signing up for our Essentials newsletter.
Natalie Wolchover was a staff writer for Live Science from 2010 to 2012 and is currently a senior physics writer and editor for Quanta Magazine. She holds a bachelor's degree in physics from Tufts University and has studied physics at the University of California, Berkeley. Along with the staff of Quanta, Wolchover won the 2022 Pulitzer Prize for explanatory writing for her work on the building of the James Webb Space Telescope. Her work has also appeared in the The Best American Science and Nature Writing and The Best Writing on Mathematics, Nature, The New Yorker and Popular Science. She was the 2016 winner of the Evert Clark/Seth Payne Award, an annual prize for young science journalists, as well as the winner of the 2017 Science Communication Award for the American Institute of Physics.