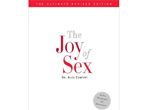 An updated edition of "The Joy of Sex" is newly released this month with more sexological detail, but the how-to manual remains scientifically superficial on the topic of anatomy.
In 1972, the British doctor Alex Comfort published "The Joy of Sex," an illustrated guide for couples of a newly liberated generation. His goal was to remove shame and confusion from an act that he saw as intrinsically human and healthy; as he wrote in 1991, he had hoped his book would "undo some of the mischief caused by the guilt, misinformation, and lack of information."
There have been several editions of "The Joy of Sex" in subsequent years, the most recent being Susan Quilliam's "Ultimate Revised Edition" (Crown, 2009).
Quilliam removes some of Comfort's more dated passages — including racist undertones and the encouragement of open relationships — while adding the findings of "key scientific discoveries in recent years in the fields of physiology, psychology, psychotherapy, and medicine." In addition, as she writes in the preface, "the advent of sexology — the specialist study of sexual matters — has resulted in both rigorous academic research and a more widespread public awareness of, and skill in, sex."
Most of these key scientific discoveries come early in the book, in a section called "Ingredients" ("The Joy of Sex" was modeled on "The Joy of Cooking," and uses culinary metaphor throughout).
Topics in "Ingredients" include pheromones, which are thought by some to be responsible for the correlation of desirability and smell; hormone replacement therapy; and sex education, where it is noted that "sex education actively raises the age at which adolescents first have sex and lowers the number of partners they have and the number of risks they take."
In "Appetizers," Quilliam offers three pages on STDs, including a step-by-step illustration of proper condom use. Readers might also be interested to learn that a man's average ejaculate is approximately 5 calories and contains "a dose of vitamin C."
Despite these additions, "The Joy of Sex" is by no means a scientific treatise: Its most popular section has been and will likely remain "Main Courses," which features instructional illustrations of different sexual positions. There is also some unscientific wording surrounding body parts and their functions: the scrotum is "basically, a sperm factory," and the vagina is almost always called the "p****." (The penis, it should be noted, is never given a more colloquial name.)
Scientific or not, the new edition continues its tradition of good intentions. The first ingredient of sex is listed as "tenderness," which is defined as "a constant awareness of what your partner is feeling, plus the knowledge of how to heighten that feeling, gently, toughly, slowly, or fast." That's experimentation that anyone can conduct.
The Sex Quiz
Video – Aspirin and Sex Drive
Sally Law has written about health and sexuality for the Cleveland Clinic, and has appeared regularly as a guest host on Sirius Radio. Her column, The Science of Sex, appears weekly on LiveScience.
Stay up to date on the latest science news by signing up for our Essentials newsletter.