What Battle Inspired the Star Spangled Banner?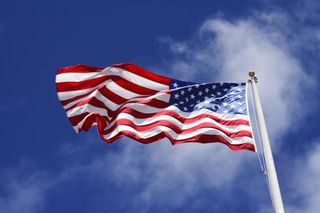 (Image credit: © Rael Daruszka | Dreamstime.com)
The rockets were glaring red and the bombs were bursting in air as the British relentlessly attacked Baltimore's Fort McHenry on the night of Sept. 13-14, 1814, the last year of the War of 1812. When Francis Scott Key spotted, by the dawn's early light, that his 15-starred flag was still there yet waving over the fort, he was inspired to write a poem honoring the victory. Later put to music, Key's ode was decreed the official national anthem of the United States in 1931. The actual "star-spangled banner" from Fort McHenry is at the Smithsonian National Museum of American History in Washington, D.C.
Follow Life's Little Mysteries on Twitter @llmysteries. We're also on Facebook & Google+.
Stay up to date on the latest science news by signing up for our Essentials newsletter.
Heather Whipps writes about history, anthropology and health for Live Science. She received her Diploma of College Studies in Social Sciences from John Abbott College and a Bachelor of Arts in Anthropology from McGill University, both in Quebec. She has hiked with mountain gorillas in Rwanda, and is an avid athlete and watcher of sports, particularly her favorite ice hockey team, the Montreal Canadiens. Oh yeah, she hates papaya.