Teeny Scorpion Discovered in Surprising Spot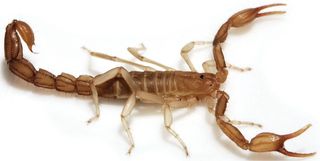 (Image credit: Matthew R. Graham.)
Researchers have announced the discovery of a tiny scorpion in Death Valley National Park, an unusual location, they said, since it lies hundreds of miles north of the known habitat of the newfound species' closest relatives.
Searchers equipped with ultraviolet flashlights spotted a single male specimen near a pile of rocks during a nighttime survey — adult scorpions give off an eerie glow in ultraviolet light.
"When you come across a scorpion, they glow a bright green color, which is really easy to see in contrast to the surrounding darkness," Michael M. Webber, a University of Las Vegas Nevada Ph.D. candidate, told OurAmazingPlanet in an email.
Webber is co-author on a paper describing the scorpion, dubbed Wernerius inyoensis, published this week in the journal ZooKeys.
The dainty predatory arthropod is only 0.6 inches long (16 millimeters) — about the length of a thumbnail.
The species is one of the smallest ever discovered in North America. Although it was captured in 2009, officially describing a new species is a lengthy process, thus the lag time between discovery and announcement.
Further attempts to capture more specimens of the tiny species have proved fruitless, researchers wrote.
Matthew R. Graham, also a UNLV Ph.D. candidate, and the researcher who found the tiny scorpion on a rocky slope, said the scarcity of the scorpions and the location where the specimen was discovered suggest the elusive creatures may live underground.
The newfound scorpion is a member of a notoriously mysterious group. The Wernerius genus contains only two other known species, native to California's Joshua Tree National Park and a rocky region of the Colorado River near the town of Parker, Ariz. Those species have rarely been seen or captured.
Reach Andrea Mustain at amustain@techmedianetwork.com. Follow her on Twitter @AndreaMustain.Follow OurAmazingPlanet for the latest in Earth science and exploration news on Twitter @OAPlanet and on Facebook.
Stay up to date on the latest science news by signing up for our Essentials newsletter.
Andrea Mustain was a staff writer for Live Science from 2010 to 2012. She holds a B.S. degree from Northwestern University and an M.S. degree in broadcast journalism from Columbia University.