Candid Camera Goes Wild: Animals Filmed Au Naturel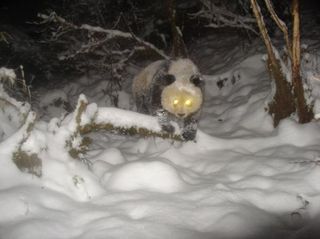 (Image credit: Smithsonian Conservation Biology Institute.)
Imagine for a moment that you are enjoying a solitary evening at home. All is dark, maybe you aren't wearing any pants, and you are ravenous. You shuffle to the kitchen and, under the cover of darkness, rummage around for something delicious perhaps shoveling spoonfuls of ice cream into your mouth directly from the carton, pausing once to scratch your bottom.
Now imagine that you open the newspaper the next day, and photos of your midnight binge are featured in the Lifestyles section. Oh, the horror.
If you were a panda , such might be your feelings about Smithsonian Wild, a new website from the Smithsonian Institution that is splashing pictures of unsuspecting wildlife all over the Internet.
The images all come from camera traps . Researchers are using the motion- and heat-activated cameras to stake out wild areas around the world, and the pictures offer glimpses of animals in their most intimate, unguarded moments.
"It's like they're caught getting out of the shower their hair's not done, their makeup's not on. It gives you a broader picture of an animal," said William McShea, a longtime research ecologist at the Smithsonian Conservation Biology Institute, and the man behind the new website.
Smithsonian Wild's parade of creatures large and small features some 200,000 images captured by camera trap projects around the world. Seven of the nine projects are stationed in exotic spots such as Borneo and Peru, but two offer a look at wildlife in the United States, in New York's Adirondack Mountains and along the Appalachian Trail. [See some of the camera trap images here .]
McShea said the pictures not only serve as a realistic contrast to the animal glamour shots generally featured in magazines, but offer the public a glimpse of nature's lesser known beasts.
"You hear about all the flashy animals, but there are a whole lot of animals out there you never see," McShea told OurAmazingPlanet.
Takins, gaurs, moonrats and tapirs are just a few of the more obscure creatures featured on the site, which is arranged by animal groups and camera trap projects. It even features a clickable map that allows a user to see where an individual camera is mounted and to browse through its images.
While McShea thinks the new site is a great educational tool for the public, the scientist said that camera traps and the data they collect are invaluable to researchers trying to count and qualify wildlife populations.
"I'm a guy who is sent to parks to figure out what is there," said McShea, who has spent much of his career studying wildlife in Asia. For animals larger than the smallest rodents, camera traps allow for positive ID about 90 percent of the time, he said.
"For people like me they are a miracle," McShea said. "I don't want to tell you how much time I've spent with a piece of dried feces in my hand and everybody arguing over what animal it's from."
To visit Smithsonian Wild, click here.
Reach Andrea Mustain at amustain@techmedianetwork.com. Follow her on Twitter @AndreaMustain.
Stay up to date on the latest science news by signing up for our Essentials newsletter.
Andrea Mustain was a staff writer for Live Science from 2010 to 2012. She holds a B.S. degree from Northwestern University and an M.S. degree in broadcast journalism from Columbia University.